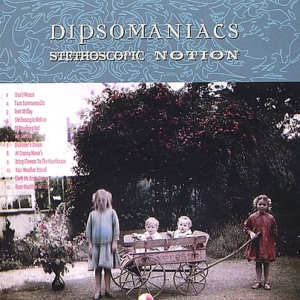 These days, there aren't many bands that wear their influences so obviously and still manage to sound so distinctive. The music of Dipsomaniacs can be described in one simple sentence, but this one line opens up such a wide sound horizon that the source of musical ideas can never be dried out.
It goes something like this: "Lennon fronting The Byrds playing Gene Clark's earlier, more adventurous songs like "Set You Free This Time" ca '67/'68".
Besides this (at least for me) obvious definition, the band has a sound of their own, which is very recognizable. Growing up with every one of the previous albums, Dipsomaniacs have finally reached the moment of the complete realization of Oyvind Holms' ideas. To make a couple of digressions from the aforementioned, initial phrase, here's what's going on here.
The album opens with Don't Mourn, an audio "revolver" in Lennon's hands, later to be transmitted to David Lindley, for a kaleidoscopic, eastern-cacophony ending, and it's followed with a rubber band line, leading into Turn Summersaults which, along with the title tune, is an idea of how would've Gene sounded like if he had had a chance to enter Crosby's "mind gardens" in 1967.
Fair-weather Friend is the Byrds again, flying all around the "Coltraned" 12-string raga-backer sound, interrupted just for the moment with the "forever changing" trumet solo, and Dulcimer's Dream turns out to be an unintentional, posthumous tribute to George Harrison at his most melodic, before the eastern culture had captured his mind, but since the album is an obvious '66-'68 reminiscing, it just couldn't be left without that Indian segment too, combining it with the garagey Farfisa and some folk-rocking jangle, featured in Bring Flowers To The Courthouse.
Perhaps the most memorable moment, as well as the one that captures Oyvind's studio wizardry in the best way, is Me For One, a piano-led psych-pop ballad, with an outstanding string arrangement, adding the dramatic dimension to the song, and a theremin solo.
If you're looking for something to fill the long gaps between The Rooks' albums, look no further, this is it! I just have to warn you that, after listening to this one, you maybe won't want to wait for anything else.
[Released by Camera Obscura 2001]