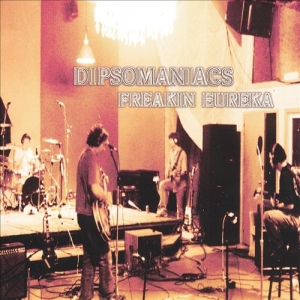 From across the river and through the woods over in New Jersey comes the fourth Dipsomaniacs album. A solidly crafted bundle of Pop-Rock, full of winning melodies, fine harmonies, ringing, distorted, chugging guitars, tight rhythms and plenty of harmonies.
It reminds me of 1974, when the bands in bars around Mercer Co. that weren't dreaming of being Led Zeppelin were still dreaming of being the Beatles. And even in as desolate a place as that was there was a good dozen bars or so that had bands playing regularly.
In those days the legal drinking age was 18 and it's a lot easier to pass for 18 as a 16-year-old than as 21 for an 18-year-old, plus there were all those legal-age college kids to entice. While in those days the bands might attempt a few original songs, none of them really thought of making a record on their own. But in this post-'76 world it's as commonplace as flies. Thus these guys are probably finishing up their fifth long player as I type this.
It starts off with a set of four rockers, each with a slightly different tang (So. Cal, Ohio Valley, Upper Midwest and Southeast, respectively). All flow as easy and smoothly as the best Scottish Ale and just as tasty. The first ballad, the mid-tempo Beautiful Outside, rings with little echoes of Big Star and closes out the imagined first side (maybe there are vinyl copies out there, but I haven't seen any).
Side Two bursts opens with the Pub-Rock inflected rocker Prince Harry complete with a readymade bar-sing-a-long chorus. The following Always Forgetting Something is a sweet, yearning mid-tempo number with a pleasant jangle and a sonorous, twangy guitar solo. As you get into the last four numbers things lose a little energy with three of 'em being a bit too long ballads and the one rocker, Little One, being more perfunctory Bar Bandish than anything else here.
[Released by Face Down 2003]