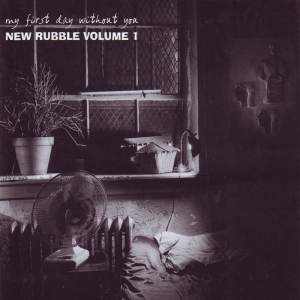 – My First Day Without You –
It's been quite a while since we had some NEW Rubbles to "throw" around, and with the re-emergence of Past & Present under the guidance of the Radioactive label, here comes a rockslide starting with "the local sound of mid-'60s Britain" which they label, appropriately enough, CLEANBEAT!
Considering the content, the involvement of notorious Britsike recyclist Nick Saloman might seem a bit odd, but he does an incredible job unearthing a handful of long lost beat/pop classics that never were. Some of the highlights, after "my first day with them", might be the Mersey flavoured Zombie heaven of THE NOTHINGS' At Times Like This, another superb piece of Zombified minor chord beat, THE NIGHTSHADES' I'm Not Going To Worry, then there's the Joe Meek-produced acoustic 12-string jangle of I Don't Want Your Lovin' No More by THE BLUE RONDOS.
As well as a couple of Knickerbockin' Mersey stompers such as the closing fuzzy power-pop of THE CREATURES' It Must Be Love, the Brumbeatsters PETE TIERNEY & THE NIGHTHAWKS' That's Too Bad or the opening Anytime from the supposedly Welsh THE LLAN's only single, and another Welsh one, the Brummel-ish folk rock of Black Is The Night by YEMM & THE YEMEN.
Some with a more familiar reference or two, are JOHNNY SANDON's Merseybeat classic Lies, backed by THE REMO FOUR, Graham Gouldman's MOCKINGBIRDS doing their own Spector-impersonation with I Can Feel We're Parting, Carter & Lewis' protégé, NEIL LANDON, provided by a number from the usually catchy pop "league", I've Got Nothing To Lose, or the debut single Wow! Wow! Wow! by the pre-State of Mickey & Tommy THE J&B, while BRYAN & THE BRUNELLES' Jacqueline might sound familiar, thanks to the recent cover by the Norwegian mod beatsters The Indikation.
Not that we weren't familiar with the existence of the (sub)genre, but it's good that someone actually bothered to label it, so now we can expect the continuation of the "rockslide".
[Released by Past & Present 2005]