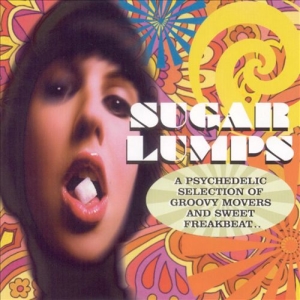 – A Psychedelic Selection Of Groovy Movers And Sweet Freakbeat … –
Well, I suppose there's no possible way for a sixties fan to resist a title like this. Still, the first thing that may come as a surprise, is that the content of this promising comp is actually a mish mash of psychedelic pioneers and their more contemporary disciples, as well as some additional, undefined ones, hiding behind the murky reverb-laden phasings.
Just to tickle your acid fueled collector's mynd, such as GRANCHESTER MEADOWS' supposedly '71's "Holy Grail" of psych singles, with some latent Syd-en suggestions, or THE NOEL GILPIN EMPORIUM's quirky little '68 psych ditty "known only to a handful of collectors".
Of course there's no doubt about THE FACTORY's '68 Britsike nugget Path Through The Forest and another certainly authentic one, that might sound a bit out of the general concept, but definitely a long lost garage punk nugget that never was, is the Barry Tashian produced '65 recording by THE ARGONAUTS , featuring a certain young organ player named Doug Yule.
Of the vintage stuff, there's also the good time-ish Brisike tune by the Faces-in-disguise as QUIET MELON, fronted by Art Wood, and of the representatives of the moderndaze, the opening track by SOUL HOOLIGAN is a Space Travel in the vein of garage-psych-by-Mancunian-way, GROOVY RUBEN delivers some kitchen sink psych quirkiness.
SMASHING TIME, in spite of it's pop-art-ish name, goes for a flute-laden piece of jazzy popsike, instead of an expected MODern freakbeat, and JARVIS HUMBY offers some Byrdsy jangle, combining equal parts of So You Want To Be A R'n'R Star and Eight Miles High, while ANDY LEWIS pairs up with John's Child ANDY ELLISON for a number which has Syd Barrett's Octopus' arms spread all over it … a bit too obviously.
Even though not something that will rank alongside your Rubbles, Chocolate Soups and the like, Sugarlumps are definitely something worth swallowing from time to time.
[Released by Hard Soul 2005]