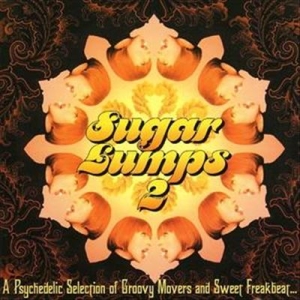 – A Psychedelic Selection Of Groovy Movers And Sweet Freakbeat –
The second installment of the Sugarlumps series is just as easy to swallow as the first one (reviewed elsewhere on these pages), sticking to it's initial mish mash of psychedelic pioneers and their more contemporary disciples, along with a couple more being somewhere in between.
Of the grooviest movers, the sugarlumps that might taste the best to your friend Jack might be the opening Eastern flavoured Britsike Second Sight by ALONZA (quite possibly Alonza Bevan of Kula Shaker, which I still haven't checked out), THE REMAINS' Don't Tell Me The Truth from their great 2002 come back album, recapturing the vibe of their finest mid'60s moments, as well as some of the psychedelic instrumental dance floor fillers, such as THE JAMES COBURN COOL's Juicer and FLYING PUDDING's Watching The Machine.
As for the sweet freakbeat, whatever that might mean, the ones that seem the reflect the description the best, are THE FACTORY's John Pantry-written second (and last) single Try A Little Sunshine, the usual mid'60s-garage-punk-at-it's-crudest-revisited by way of THE WOGGLES' Ramadan Romance, or JARVIS HUMBY's demo of Straighten My Mind from the forthcoming album, providing their just as usual brand of Medway-flavoured Hammond organ-ized big beat (this time around, appropriately enough, with Graham Day, the Prisoner himself, twiddling the knobs).
QUIET MELON's Diamond Joe, is stuck between the expected Faces-like good time-ish r'n'booze and The Pretty Things' noisier psychedelicate moments such as Baron Saturday, while the obviously titled closing End by SWEET WILLY, just as obviously borrows from The Stairs' Weed Bus, and before we actually swallow the content, another one worth the mention is Disappear Across The Sky, which is ANDY LEWIS, once again teaming up with one of the genuine '60s mod icons, John's Child ANDY ELLISON, for a Barrett-like piece of quirkiness.
Swallow it down and move to the groove!
[Released by Acid Jazz 2006]