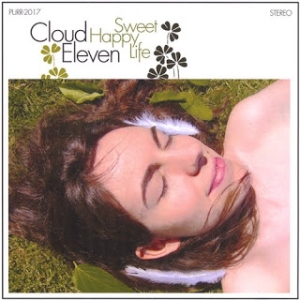 The first proper album after 2002's Orange And Green And Yellow And Near, with 2004's collection of unreleased and rare recordings Terrestrial Ballet keeping us high on the eleventh cloud in between. Sweet Happy Life finds Rick Gallego practicing the usual pop wizzardry, exploring mostly the same old late '60s/early '70s musical legacy, in an even more sophisticated way.
Having heard most of his previous musical outings, I wouldn't say that the involvement of Brian Wilson's touring band members Nelson Bragg, Nick Walusko and Probyn Gregory has much to do with it, but it seems that the "sweetness and happiness of life" according to Rick himself, is nothing but a great big SMiLE.
The artwork, as designed by "the now man" Steve Stanley, being reminiscent of some of the musically related (same) late '60s/early '70s sunshiny harmony pop re-releases, doesn't seem to distract from the overall concept neither, making this as genre defining an article as it gets.
The ones that are sure to bring an instant SMiLE onto your face are the opening pair of Home and Way Of Life, as well as Ocean, while some of them, such as Innocence or Not Over You, mix equal parts of Macca-by-way-of-Andy-Partridge as well, as does Sea And Soul, which actually comes off sounding not too unlike Emitt Rhodes.
While it's with Leaving, Wishing or Feathers (the latter with a full blown Pet Sound-ing production, complete with a Bacharachian flugelhorn solo) that he refers the most to what's being considered for trademark Cloud Eleven sound, though still sticking to the "quiet-is-the-new-loud" way of delivery, as well as throwing in LOTS of pedal-steel, for an additional Americana feel .
Amongs the mostly Wilsonian references, Superradiance occasionally also gets kind of Lennon-ish, at his most almost-other-worldly-psychedelicate, and don't let the fact that the closing Evaporate is the only one using the whole drum kit, because it's just as "sweet and happy" as the rest of the content.
Time to get on with our lives… and don't forget to make it sweet and happy.
[Released by Kool Kat Musik 2006]