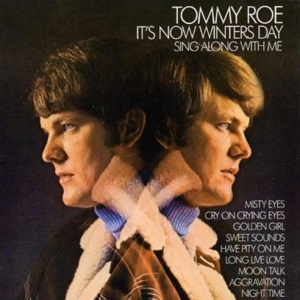 Any decent Curt Boettcher/Millennium-and-related fan is well aware of Tommy Roe's It's Now Winter's Day album, recorded at the end of 1966 and released early 1967, in between his more usual bubblegum chews.
Surrounded with the usual cast of ex-Ballroom and future-Millennium characters, along with a bunch of session men, it's no surprise that most of the album is up to Curt's highest standards, most notably in Nighttime, Golden Firl or Moontalk.
While it's Tommy's own songwriting that takes things towards some slight detours as well, though mostly managing to stick to the basic concept, as heard in the opening Leave Her, which is kinda like The Mamas & The Papas being backed by The Music Machine, or the genuine Monkee business of Aggravation, the melodramatic Cry On Crying Eyes, being a perfect Gene Pitney impersonation, while the closing title tune rounds things up with it's Wilsonian kind of a "pet sound".
On a more traditional side of things, Have Pity On Me is soulful piece of ballad, halfway between the pain in Otis' heart and James Brown's plea, and the non-album single b-side (included as a bonus) Kick Me, Charlie is an almost unusually classic sounding r'n'b, with only the vocal arrangement managing to keep things sunshiny enough.
Teaming up with soon-to-be-acknowledged-studio-pop-wizzard at the helms, was sure to provide Tommy with a genre defining sunshiny harmony pop item, and unfortunately, as time has shown, at the moment of it's release an underappreciated classic of it's kind as well.
[Released by Fall Out 2007]