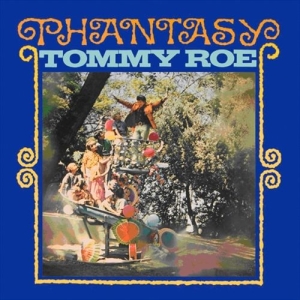 Being a perfect sequel to his It's Now Winter's Day, released earlier the same year (1967 … and reviewed also on this site), and just as perfect companion release to any of the Boettcher/Millennium-related stuff, Phantasy predated Roe's upcoming return to the bubblegum route, he's most commonly being associated with.
Previous album's commercial flop broke the Curt Boettcher/Steve Clark production partnership, however, Roe and Clark decided to give the quasi-psychedelic bandwagon jump yet another shot. Sticking to the "winter day's" ex-Ballroom/future-Millennium back-up, the overall concept is pretty much the same, opening with Paisley Dreams, as if dreamt by the Everlies-gone-slightlydelic, followed by the Plastic World from an imaginary bookend by Paul Simon, from which Melancholy Mood might've come as well, also being a bit reminiscent of his Red Rubber Ball, written for The Cyrkle.
The "imaginary symphony", he's referring to in Visions, might as well be the one where the baroque orchestration, present throughout most of the album, makes the best of itself, though the slightly Gene Pitney reminiscent The You I Need comes as a close second, and the Monkee kind of business he started with on the previous album, stretches to no less than three tunes over here (Mystic Magic, Little Miss Sunshine and the Sandy Salisbury written Goodbye Yesterday).
Suffering a faith not too unsimilar to it's predecessor, Phantasy was Tommy Roe's last detour from the more secure formula, which was soon to take him so high once again, that it made him feel "dizzy"!
[Released by Fall Out 2007]