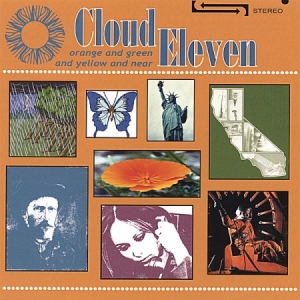 I'm not sure if this was Rick Gallego's idea, but if you'd like to describe his music in one simple line, "orange and green and yellow and near" is as perfect as can be.
The colors represent the worm, sunny sounds, experienced while lying on the green, green grass of California (home, that is), with lush vocal harmonies giving you a strange feeling of intimacy (like you're "near").
This one's on Rick's own label, which is also appropriately called West Coast Records, making it this year's ultimate sunshine pop/west coast harmonies/summersound (whatever Boettcher/Usher-related phrase) release.
Of course, there's plenty of studio trickery that contribute to the distinctive Cloud Eleven sound which, along the already mentioned and through the songs like Blue Butterfly or Rocket Chair, take you to an unexplored parallel sound-universe called "easy listening psychedelia".
Some other highlights, that are pretty hard to label, are the wonderful "tribal gathering" of sounds A Reply, Liberty Run, with an unusual raging guitar intro, as well as the glorious closing ballad Too Lost For Lonely, which perfectly summarises the album's sound concept.
[Released by West Coast 2002]