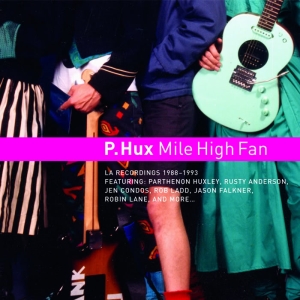 – L.A. Recordings 1988-1993 –
For those in the know, when it comes to the contemporary (power) pop scene, the name of Parthenon Huxley should do more than just ring a bell.
What we get here, is actually something of a late sequel to his Sunny Nights debut album, making these MCA sessions available for the first time (except for the Byrdsy-Beatlism of Bazooka Joe which appeared on a Yellow Pills comp).
As usual, on offer is quite a wide range of styles, with Pages Of Love sticking to the above mentioned Byrdsy harmonies, combining them with a Gene Clark-like melody and a bit more pumped up verses, and Princess Jekyll Mrs. Hyde being another slightlydelic Beatles'66 workout, while they slow things down a bit with the title tune, which is "yer" Lennon-ish type of blues, and another similar slow-tempo mood is being provided through a Jellyfishin' piece called The Big One.
For your dose of more universal power-pop sounds, check out This Isn't Yesterday, the jangly, contemporary folk-rock sound of Change Tomorrow, or the latent Americana of Your Dream The World Becomes, before they get all funky, in a jazzy-popsike way of Shiny Sun, and they're even capable of delivering a full on big band sound, complete with the horn-section being reproduced on guitar by Rusty "Macca's axeman" Anderson , as heard in That's What They Say.
Even though released a bit later than initially expected, this one's sure to secure another "mile high" pile of fans.
[Released by Not Lame 2006]