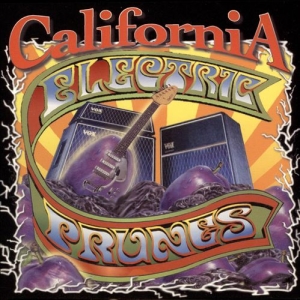 After their 2002 come back album Artifact, here's another piece of, as they put it themselves, "Prunethropic Vibratwang", taking you right back into the end-of-the-sixties time zone, reminiscing about the Californian "sonic landscape".
The 'Prunes aren't back in it for the money, that's for sure … though they did deserve their share a long time ago! Fuzz-soaked psychedelic sound isn't exactly what you'd call an attempt to invade the charts and the way they do it, it's gotta be just for the pure fun of it …
And they sure sound like having some, no matter if it's with psych balladering like in 49 Songs and in the mellotronized chamber feel of the appropriately titled Transient Absolution, or just plain sixteez rifferama of the Rewired and Rosy Made Me Crazy, complete with an authentic rave-up.
As suggested by it's title, Pacific Ocean Blue pays a tribute to the Wilson brothers, making it sound like surfers on acid and while covering Tom Petty's Makin' Some Noise, some of the originals like I Never Knew What You Wanted and I'll Drag You Home actually sound more "Heartbreakers-goin'-psych", though slightly heavier than the usual Petty-jangle (also adding to the impression is James Lowe's vocal).
The one that isn't actually a title-tune but captures the album's concept perfectly is The Rickenbacker 12 String, with Moby Grape's Peter Lewis (also on background vocals throughout the album) providing the McGunn-ish jangly soundtrack to the tale of long ago.
Though this really shouldn't be of such an importance, it should be noted that the cover art, courtesy of the Fuzztone, Rudi Protrudi, looks like it should've been enough a reason for you to want to have it, featuring two prune-shaped Vox guitars, in front of a pair of Vox amplifiers, graced with the full-blown West-coast style logo.
[Released by Prune Twang 2004]