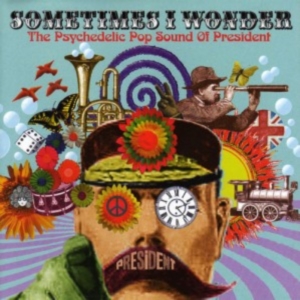 – The Psychedelic Pop Sound Of President –
Just like most of "Various Artists" compilations, even when they're precisely genre-defined, tend to offer varied soundscapes.
It's pretty much the same with this one, but if you're ready to open your mynd regarding the understanding of the Psychedelic Pop term and take it as amplified as its sound-palette actually is, you're sure to have a real technicolor audio experience!
Even though a version of this album already appeared on the Tenth Planet label (whose David Wells also provides an in-depth story in President's BIG fold-out inlay) as the first volume of The Electric Lemonade Acid Test vinyl series, you definitely won't be sorry for getting this fully updated version too.
The opening Finding It Rough by Hat & Tie, actually does find Mr. Campbell Lyons in a bit rougher mood in his pre-Nirvana outfit, latently suggesting the chamber popsike sound to come.
Rhuburb Rhubarb is presented with both sides of their only single's slightly Eastern-tinged MOVE-ing Britsike (Rainmaker/Moneylander) and the similar path is also followed by The Explosive (formed by ex-Uglys Dave Pegg and Roger Hill) Cities Make The Country Colder and The Small Faces-like (Who Planted Thorns In) Miss Alice's Garden, while their Step Out Of Line (released in'69, just like the previous two) takes them a few years aback with it's snappy mod-pop sound.
Some more (post)MODern styling are delivered through the Gram Gouldman-written Some People by Chords Five, the jazzy-infected Brum-beat of The Exception's Don't Torture Your Mind as well as The Gass Company's Nightmares, sharing not just the song title with The Creation's pop artistry.
Some of the most adventurous sounds can be heard from the John Carter-involved Cape Kennedy Construction Company doing an out-of-mind-swirling-audio-trip called The First Step On The Moon, written by Barbara Ruskin, also featured with her own girly piece of freakbeat Pawnbroker Pawnbroker, a genre even better presented through The She Trinity's (including former Merseybeatster and Gerry's brother Baryl Marsden) Climb That Tree.
As a more than welcome inclusion, I must mention Sheridan & Rick Price's hi-octane stomper Lightning Never Strikes (Twice), made more famous after The Move's cover, after Rick Price joined the band.
It might be interesting to mention that it was Mike Sheridan's Lot that featured young Roy Wood earlier in the sixties and Mike was also the one who was replaced with Jeff Lynne in The Nightriders, before they morphed into The Idle Race.
Two more tracks that must be mentioned among the CD's highlights are the two Symbols' harmony-heavy tunes (Again and (The Best Part Of) Breaking Up) that should make you grab their own collection, also just released on President.
With this one, the mentioned Symbols and Barbara Ruskin's own release (read reviews elsewhere on these pages), we could be more than grateful for the re-emergence of the Presidential sounds.
[Released by President 2004]