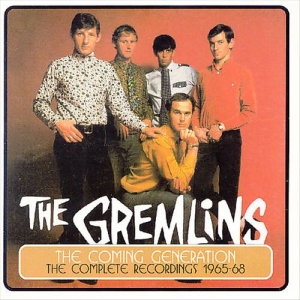 – The complete Recordings 1965-1968 –
As the subtitle shows, spanning from mid-to-end-sixties, The Coming Generation depicts the development of what could easily be described as THE (Rev-Ola-utionary?!) Kiwi pop band, accompanied by detailed liners through an interview with the main Gremlin, Glyn Tucker.
Naturally enough, their story starts off with an intended Kinks-rip off, which actually came out more like a punky little Adam Faith beat number (Don't Ya), coupled on their debut '65 single with an early Merseybeat effort But She's Gone with some frantic jazzy guitar licks all over it, neither of them really suggesting what was to come.
The REAL Gremlin "grin" came with the follow-up single, featuring a pair of more acoustic based, jangly folk rockers, in the vein of Scotland's No.1 group, The Poets, made of The Knickerbockers' Mantz/Tucker/Jones-team written The Coming Generation and John Carter's That's What I Want.
The same year (1966) also brought an EP featuring the previous single's sunny-side, as well as four more tunes, among them two overlooked pop nuggets, the mid'60s-Beatlism It's Easy To Say, given some extra balls with the fuzzy guitar passages, making it an early power-pop prototype and there's also the harmony drenched folk rocking of The Only Thing On My Mind (as heard on the first volume of the Fading Yellow series).
The last '66 single Understand Our Age, though being a great song itself, was an attempt at revisiting the winning generation-protest-theme-formula, both lyrically and stylistically, while it's '67 follow up was a perfect Troggsound reproduction called You Gotta Believe It, with even the vocals recalling that of Reg Presley, backed with the classic Brit-beat of I Can't Say.
By the time of their sixth release and according to the times, The Gremlins too got themselves a bit psyched-up with the spacey freakbeat of Blast Off 1970, with it's flip being a total opposite, adding, (according to Glyn Tucker) 'Spoonful/Mamas&Papas-influenced vocal harmonies to the Mersey-flavoured ballad Sunday Breeze.
Another post-mod piece of freakbeat called Never You Mind preceded the last pair of distinctively late'60s Brit-inspired singles, featuring tunes like the slightly heavier Listen To Me or a bit more progressive pop sounds of Kingsforth Hemmingsteen and Don't Just Stand There, the former being the first step towards an intended rock-opera concept (and as it happened the last one too).
As they put it themselves, this is Rev-Ola's "first trip down under" and hopefully not the last one, since there's a lot more treasure to be dug up.
[Released by Rev-Ola 2004]