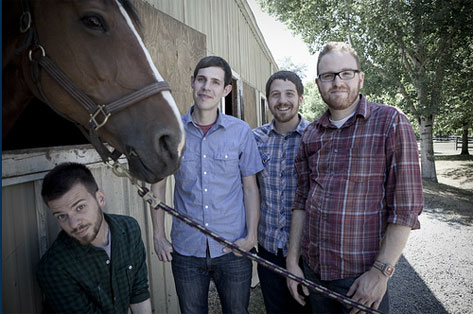 Boat – Setting The Paces [Magic Marker/2009]
Youthful Exuberance! Come and get it. You've heard hundreds or even thousands of indie-rock tunes like those found here. But what makes your ears perk up and take notice is that Joie de Vive with which they're projected out into the universe. Think of the first time you heard "Rock and Roll Pest Control¹," "Wicked Pygmy Summer²," "Cut Your Hair" or "Hang Around Your Head³." Things weren't exactly pitch perfect, but still, your heartbeat quickened, your body started Doodle Bug-ing and a smile cracked out. The third tune above is the one your most likely to have heard of, and Boat, a combo out of the Seattle area, does tend to have similar patterns to Pavement: in their rhythmic figures; sometimes elongated, cantillated vocals with the 'gang' popping in; and segmented short cycle repetitiousness. Most obviously in the wobbliness of the beatbox ballad that is "100 Calorie Man," and the talk/sing, at times skewed, vocals and shuffle patterns of "Calcium Commuter." Also like that point in Pavement's career this album comes not at the beginning of their existence — like the three other examples referenced — but some ways in, this being Boat's third album.
(I have no idea what the other records are like; in my current semi-retired state I only was apprised of their very existence a few weeks ago.)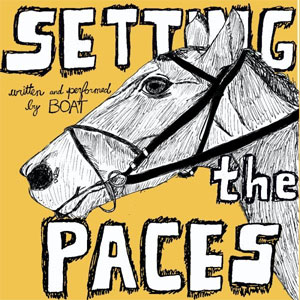 While at times, superficially, it might seem that all their influences post-date 1990 there is striations of formalism cutting through many tunes here, even if they might be thirdhand. The album opens with a delectable concoction called "We've Been Friends Since 1989" — one of a number of tunes here that seem to sketch some tale, like an entry for that three hundred words story contest on that NPR holds. It's an intricately constructed little ditty: Once you get past the false start it enters on an isolated vocal and a bass line.
Ten seconds in the rest of the band starts bubbling up till they break out in a stomping rush, holding strong to its melody. At the one-minute mark everything just disappears and is replaced by an isolated piano for a twelve-note figure. Then BAM; the band's back with a Spectorishness, via Beach Boys, complete with glockenspiel and swelling Big Beat that tops off into the chorus again. After adding some filigree, again everything disappears and that little twelve-note figure now comes via a deadpan vocal and plucked guitar, twice. From there it races out towards the end with short cycle loops and a bit of overlapping vocals.
The following number "Lately" is a succulent rocker that starts out like it might be a band theme – every band should have one, just ask Mott the Hoople. Though how true to life its recounting is I have no idea, but it gets kind of detoured anyway. There's an interesting touch as they come out of the bridge: they slip into a martial beat that builds the tension into and through as the lyric "We'll send in the troops…" arises.
"Interstate Five" is a sub-two-minute rocker that bounces keenly along with a distortion treated lead vocal. It's got this intro that reminds me more than a bit, not in content but in sound, of the beginning of the Clash's "Capital Radio (two)" — after the instrumental prelude and after the rocking starts, just where Strummer enters. But then this tune shifts away from balls-to-the-wall towards more of a mid-tempo. Which lets that little extra bit of sweetness hit at the bridge, that counterbalances the increasingly distorted second vocal, which seemingly moves in for the kill and drags the lead his way in the march to the end.
It's hard to see the intro of "Prince of Tacoma" as an accident, being a pretty obvious allusion to the signature guitar lead/melody of the Kinks' "Victoria." Though other than nominal reference to royalty in this song's title I don't see any other direction relation between the two songs.
The lead off cut of Side Two "God Save the Man, Who Isn't All That Super" is a mid-tempo tune whose brief intro rocks with ringing guitar and noisy rhythm. Then it quiets down some in the verse, going indie, with stretched vocal and herky drums, though the ringing guitar remains. It drops down even more for, let's just call it, the chorus to basically kick drum, knelling strums and a slightly more declamatory vocal. That arrangement continues with the prominent addition of shaker through the second verse. The shaker drops out as the chorus returns, but the beat starts to pick up and that ringing guitar slowly turns mellifluous. Then we hit the bridge, again BAM, the rawk hits, complete with power chords. Which leads into a bursting coda, full of bounce, joy and even some Pirate backing vocals. The 30 second run out dissolves it all away.
But the joy continues with the following tune "(do the) Magic Centipede." A sly, two-minute ditty that mixes in scalar harmony bits, a honking sax, some gangs-all-here harmonies, a bubbly rhythm, all in an innately catchy wrapper seemingly taken right out of Jonathan Richman's chest of drawers.
We all need a little in our life; shots of effervescence; something that latches right on to the viscera. This one sets the pace today.
David M. Snyder
¹ Young Fresh Fellows ² Wishniaks ³ Doleful Lions