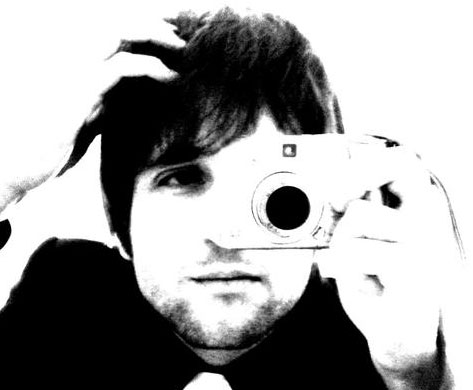 Adrian Whitehead – One Small Stepping Man [Popboomerang/2008]
Bryan Estepa – Sunday Best [Popboomerang/2008]
Danna & The Changes – Consonant Cacophony [Popboomerang/2008]
The latest batch from Oz's Popboomerang label includes these very delightful platters from three pop-rock oriented singer-songwriters. Mr. Whitehead leads with his piano and a (solo) Lennonesque singing style and sense of arrangement. Which makes it kind of easy to look at Mr. Estepa as falling on the (early '70s) McCartney side of this, admittedly small, scale: what with various such instrumental touches as well as more of an openness to his vocals, but it would probably only be in juxtaposition. Jumping off that analogy, the surname less Danna hails from the Victoria provinces but vocalizes and arranges like a cornfed Midwesterner.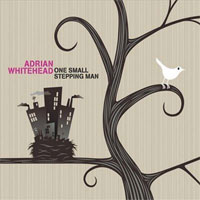 Mr. Whitehead leads with his keyboards — electric & acoustic pianos and various digital playthings – with his vocals tending to the higher register, somewhat reedy and a bit breathy. Then there is the self-harmonizing which reach toward the angelic. It's all brought together to form the most succulent of melodies – some of which seem to have always resided deep within oneself (the chorus to Saving Caroline rattles around the head desperately searching for its twin). He's backed by a subtle trio of guitar, bass & drums that provide the oomph when needed, and bits of filigree.
But, as always, it's the songs that count: The opening number Caitlin's 60's Pop Song is a mid-tempo paean that hits these dark chords in the rhythmic verses while the choruses well all up. Interesting texture is added by the snippets of ELOish vocal overdubs in the middle choruses. Radio One pulses and hums, and then darts out, pumpin' away with its choruses. The Ways Of Man is probably the most up-tempo number with the backing combo pushing, Whitehead playing along and producer Jak Housden twirling out flares of guitar leads, particularly in the long jammy run-out. I don't know if it's me, or what, but I have to mention that the piano part in the verses remind me a lot of the Cheers theme. While the melody and tone of the song brings to mind early Harry Nilsson. The final number, Nothing's Changed, is a bit of an odd duck, in that there's mostly no keyboards. It's a sparse number, the bulk of which is composed of just acoustic guitar(s), hand percussion and voice. Though the stacked vocals make small appearances it has a back porch quality. And while the rhythm of the song is somewhat jaunty, that seems to belie the tenor.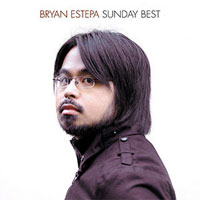 Mr. Estepa, as mentioned, has a more full-throated timbre and leans, on occasion, toward a rootsiness in his arrangements. The biggest differential between the above and here is the two-and-a-half minute, rampaging, rocker Myself, as well as to most of this album. It's a familiar sounding romp, but no less compelling in anyway, as both guitar and voice twist the dial in the direction of "shred." One of the most luscious numbers is Estepa's homage Carl Wilson (joining a growing crowd that includes Marc Carroll's old combo the Hormones' Mr. Wilson (as in Brian) and, I guess, one Charles Douglas' Dennis Wilson; who will dare to write the Mike Love one). It's a swaying, mid-tempo tune with stacked backing vocals, succulent melody and a number of scattered lifts that rolls by like a sweet summer breeze. The pleasing Skipping Days is similarly styled though with a touch of that twang I alluded to earlier. While the opening cut, Aches and Shakes, interestingly contrasts a rumbling bottom with light acoustic guitar and airier vocals on the top. It proceeds in rolling along with a light bounce and increasing density. Brief backing vocals bits from, I'm guessing, Natalia Mitcbell and Joel Sarakula and a doleful bit of slide in the break are elevating touches. Even barer is Stars, a pretty, yearning ballad stripped down mostly to just acoustic guitars and vocals, with some delicate layering and harmonies.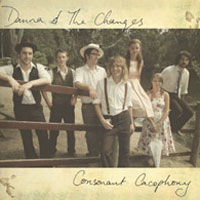 Actually Monsieur Danna does have a surname, Simmons, and along with his posse the Changes he shows a somewhat wider range than his compatriots above do. He throws open this album with a pair of rockers, Baby Love and Good Duet, that spin along with a Replacements, circa Tim, rambunctiousness and stomping catchiness. Armed with flashing guitars, a brisk pace and loose, ganged backing vocals in the bridge the former takes a turn as his vocal twists into a sliver of '77 Petty via a panned, self call-and-response. At almost twice the length the latter number stays just this side of outstaying-its-welcome with its energy, grinding guitar lashed to an overtly familiar bounce rhythm, a hearty, unrestrained vocal and its tension filled break via guitar feedback, pulsing bass, 4-on-the-floor beat and a snippet of '71 Rolling Stones vocal sneer. He demonstrates his own touch of Nilsson on the mid-tempo, piano-led pop tunes He and She and Long Time Alone. While with Shake It Up and I'll Come Around the music enters the Wilco, circa Summerteeth (minus the squiggles), and/or Autumn Defense region. The former number, a rocking little tune, layers on the guitars while the vocals get some added sugar, with them all running down the melody. The latter is of lighter fare and also has a kind of back porch sensibility, with its succulent harmonies preeminent. The black swan here is another Beach Boys tribute, He Was Irrelevant. A delicate ballad stuffed with a multitude of voices with understated backing of various keyboards — along the lines of "And Your Dreams Come True," "You Still Believe in Me," "I Went to Sleep," etc. It's a sad tale lushly told, with your heart tugged by every struck harmony.
It's taken me the whole summer to scribble these, about, thousand words. I was slowed down even more than usual by a tumultuous bout with shingles that stuck soon after the package containing these discs arrived, the remnants of which still linger to this day. But listening to these records over and over and over again during those months greatly helped get me through it all. So as your own seasonal blahs creep up, remember: take these three and call your bartender in the morning.
DAVID M. SNYDER