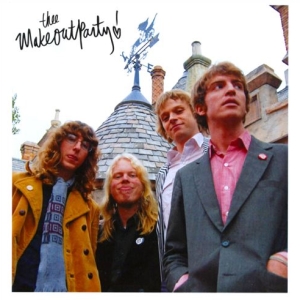 The cover shot sees them "play pretend" they're The Who, with an olde medieval mansion (or whatever that seems like one) replacing Big Ben … The inner shot sees them showing off all kinds of influences, as they "play pretend" being Joey Ramone, an unidentified Crazy Horse member, a British mod, and a Height Ashbury freak, all holding hands (!) on a top of a mountain.
A mixture of '60s sounds from sides of the Atlantic, a punkish attitude, and a perfectly sloppy 'Horse-like (live-in-the-studio?) delivery is how I'd describe it. Right from the opening mod-stompin' Wreckless Epic, it obvious that as much as these guys love pop music, they're also making fun of it, obviously having a hilarious time along the way.
The following pair of 2 EZ 2 Love U and Run Kitty Run sound like The Who's Ready Steady EP B-side outtakes (you know, Keith Moon being a surf fan and all …). Besides the mentioned opener, other ones that really do it for me are the ones where the drummer "plays pretend" he's Viv Prince (Raspberries and the hidden Slack), freaking the power out of pop!
Oh, and the press release says they cover The Idle Race, which would've been enough for me to get me hooked even without hearing them … but don't tell anyone.
[Released by Teenacide 2009]