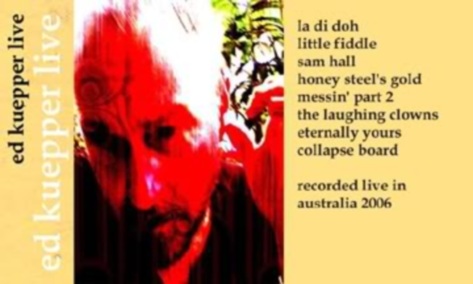 This disc was concocted up for sale on a Springtime European tour; issued on Kuepper's own revived label of many decades ago. Maybe you were lucky enough to catch him. If not drop Mr. Kuepper a line via his MySpace page and see if you can wangle one of these. The presentation is via your classic power trio, with one-time Sunnyboy, Peter Oxley, on bass and longtime Kuepper associate Jeffery Wegener on drums. They create a Cream-like density and power, though without the frills. Or the frills found on many of the original versions of these songs.
The opening number, La Di Doh, stripped of its didgeridoo and jew's harp and pepped up, becomes a tom-driven thing that in conjunction with the bass just powers through for an extra two minutes that is barely noticed. It also gives free rein to Keupper's guitar which turns from circling, grinding, chugging and other riffage to what sounds like a bit of the royal anthem of Australia, God Save the Queen (or King) somewhere in the middle. On top in the vocal sections that power forces Kuepper to bring more grit to his airy, dulcet singing though with a piquant tang.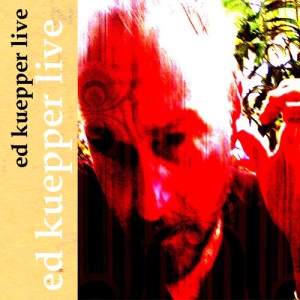 This stripping back the arrangements and increasing the density and brawn in the songs continues throughout. There are no Saints songs included here, but Kuepper does reach back as far as 1979 and the theme song for his first post-Saints combo "The Laughing Clowns." While the length is almost the same as the original version, it seems like they're double-timing it all the way. Contained within the performance here is a tour de force by Wegener (who appeared on the original version), with his cymbal play intertwined about his full steam ahead drumming.
While on another L.C. tune here (the following, closing number, Collapse Board, is also one),  Eternally Yours (no not found on one of the all time great albums, that bears that name), once again stretched out, though a bit more languidly, provides a bit of a showcase of Kuepper's guitar playing: picking out the melody while running up the tempo, producing an Eastern tang.
After all these decades of never having come to the Delaware Valley all's I can say is getting this in the mail has generated great envy for you stinking Europeans who had such a privilege.
[Released by Prince Melon Records 2008]