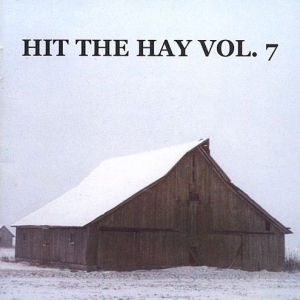 A man with more drive and stamina than I've ever demonstrated is Jerker Emanuelsson. He's been putting out these compilations, the more recent ones being double disc sets too, plus the other odd releases, for ten years now.
Working out of a little town in Sweden, between popping out kids, he has been able to keep a better track of the American Indie, Roots, Pop-Rock and alt.country scenes than we ever seemed to be able to at THE BOB.
This set contains 47 cuts, 11 of them exclusive to this package and the rest taken from existing, or about to be existing, releases. The artists range from familiar names — Doug Yule, Silos, Russ Tolman, Jesse Valenzuela [Gin Blossoms], Richard Barone and a few others — to those I was previously ignorant of — Anomoanon, Old Reliable, Heatersons, Eric Blakely, Lonelies and on and on. (Some of these recordings have been around quite a while.)
First, I guess, we have to deal with the disclaimers and petty grievances about the few people I've had personal dealings with. The Sex Clark Five (the other Bloodmoney recording artist) are still whipping it up down in Alabama, and have dug out of the vaults I Was Looking At Her. A not even minute-an-a-half rocker built out of stacks of strumming, pealing guitars and high reedy harmonies slathered in reverb, but with a driving Beatlesque rhythm.
And whether through coincidence or something the following cut is Nixon's Head's (v2.1) Go Away. A song that was cut over a decade ago for inclusion on a single I talked myself into putting out — still have piles of them if anyone desires… It's a keening, Soulful rocker packed with the band's trademark guitar riffs and a forceful rhythm with a touch of swing from Baer. It even contains what could possibly be Fingeroff's most deft solo. But the vocals generally sit too far back in the mix, even the spirited call-and-response segment in the bridge. They disagreed with that view and so it lay in the vault until now.
There's a few other neighborhood guys: ex-pat David Byron Ragsdale offers a track from his album (released by the Head's Groove Disques empire), Girl From Surry. It's a classical piece of mid-tempo Pop-Rock with chiming guitars, swelling and rolling vocals — one of his less affected performances — and a jaunty but simple rhythm.
And from across the river with a song called Rubber Soul, from an older album, is the Dipsomanics. Marked by a saxophone, some call-and-response vocals of its own, plus just the right bit of ache in Mick Chorba's lead vocal, and a swingin' rhythm this unveils as a primo slice of Blue-eyed Soul. Then there is Dennison Witmer, of whom I've never heard of before, but it says records here in town. The previously unreleased Worry All The Time is a plaintive, multi-tracked, acoustic ballad colored with some subtle electric guitar playing so that it comes across as both delicate and haunted.
As to some of the rest, the first cut is a spritely, shiny piece of Power-Pop from onetime Translator singer-guitarist Steve Barton called Hold A Shadow Down. Onetime Gear Daddy Martin Zellar with the Hardways offers the twang inflected, mid-tempo, jangly Roots rocker Everything We Had. P.Hux's previously unreleased Things Could Be Worse is a seventies style rhythmic rocker, complete with the big wah-wah guitar solo, a slightly hoarse lead vocal sometimes touched by the odd Bowiesque declaration, but switched out with choruses constructed of tight, tuneful harmonies.
That's followed by the also exclusive Rules To The Game from Doug Yule, in which he's helped out some by Boston Indie stalwarts: Charlie Chesterman, Malcolm Travis and Pete Weiss. This seven or so year old tune is a dusky yet solid, mid-tempo, reverb-touched rocker reminiscent of Chris Isaak. The Kinman brothers appear in another one of their guises, Cowboy Nation, with Way Out West, a spare, pretty, Countryish pop tune full of close harmonies and clean instrumentation.
Over on disc 2 it starts with Richard Barone [Bongos] working once again with Tony Visconti. Sanctified is a strange concoction. It opens with a pretty segment of just voice and acoustic guitar then various keyboards are laid in. After about a minute a full band kicks in (although it's just Barone and Visconti) complete with fuzzed (faux?) strings and electric guitar straight out of T. Rex, though the pounding early Rock and Roll piano gives it a nice counterbalance. The beginning part makes a very short return two minutes later with a mechanistic overlay, and then it's back to T. Rex through to the end.
One Jason Collett plays into my own proclivities with the catchy, propulsive Pop-Rock of Tiny Ocean Of Tears. A little more melancholy with ample twangin' and some nice handclaps is Brady Harris' Strangers When We Meet. Behind the vocal of Mary Battiata Little Pink proves to be the resurfacing of Karl Straub [Graverobbers]. Dried Out Loud is a sweetly terse, Roots-Pop tune with Battiata's overdubbed harmonies and Straub's ringing guitar figures over a linear, closed hi-hat led rhythm.
Deeper into Folkish Country is Steve Owen's jaunty A Flatlander's Lament complete with Arlo Guthrieish talking segment. The Lonelies are a rocking alt.country band like one of those 'dog bands (Honeydogs, Hangdogs, etc.). Please Don't Seal My Doom, flashing riffs up and down, is led by a strained, nasally lead vocal and rides a lightly swingin' rhythm. In conjunction with the MIA Ward Dotson from a few years back comes Aaron Spade's charming, mid-period Beach Boys influenced, harmony laden, airy pop tune Hey Girl.
And all that barely gets you started on this set.
[Released by Sound Asleep 2004]