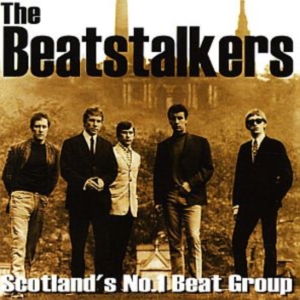 This is another one of those LONG overdue re-releases, and also being the first ever compiling the complete works of these Glasgowian beatsters.
All it took was an enthusiastic fan, which happens to be the younger soul mate Lenny Helsing of The Thanes, Alan Mair of The Beatstalkers himself, as well as the invaluable archive of his own mum.
Released on Alan's own Ika label, the package happens to be of the highest quality, complete with the 24-page (!) booklet, as it's being done by the likes of Sanctuary, which is where it should've been released on after all, if there's any justice left in the world.
Anyway, even though it may lack the promotional campaign of the label such as the above, it's good to have it around, proving that besides the full-on mod outlook, complete with the tartan hipsters, they really had more to offer, deserving a more significant place on the '60s beat map.
What they're being remembered the most for, were the riots they were causing in their homeland, which were supposed to be near the Beatlemaniacal level, as well as the pair of fuzzy beat stompers (Ev'rybody's Talkin 'Bout My Baby and You'd Better Get A Better Hold On) defining the freakbeat genre.
Besides these, there was more of the Donnie Lennox's soulful howl exploitation in a couple of blueyed soul numbers such as Mr. Disappointed (which the group itself, surprisingly, wasn't particularly fond of), before they started to follow the "signs of the times" with the flower-powered vibes of Rain Coloured Roses.
Or the three Bowie-written tunes (they were sharing the same manager), of which the only one that really stands out is the quirky sounding Move-ment Silver Tree Top School For Boys, which was paired for a single release with the only self-written piece of popsike Sugar Chocolate Machine.
A special notice must be taken of their super-cool choice of the cover song for their last single release in 1969, The Action's then-unreleased Rolled Gold-outtake Little Boy, which they deliver in a slightly slowed down, almost Vanilla-flavoured psychedelicate way.
As a bonus, besides all the single sides, there's also a pair of raw-sounding bluesy '63 demos, making it a full-circle from the beginning to the end of the decade.
[Released by Ika 2005]