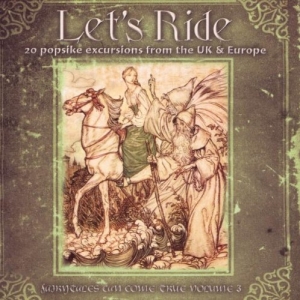 Fairytales Can Come True Volume 3: Let's Ride (20 Popsike Excursions From The UK & Europe)
Blitzing The Ballroom: 20 UK Power Glam Incendiaries
Another pair of comps assembled by the in-house compiler Nick Saloman, once again proving that time "spent hunting down obscure singles" still DOES make sense after all these years, with each new round unveiling at least a jewel or two within whatever (sub)genre we're dealing with.
It's no surprise that the one taking us on "popsike excursions" between '66-'72 is the superior of the two, opening with no less than my own fave of all 40 entries, SIGHT AND SOUND's powered up The-Who-meets-The-Hollies Brumbeat Little Jackie Monday, featuring notorious local scenesters Mike Sheridan and Rick Price.
Other highlights include the American emigrants in France LES IRRESISTIBLES, providing a perfect baroque-pop template through My Year Is A Day, KATCH 22's Merseybeat reminiscence from '68 called Don't Bother, sounding not unlike The Roulettes sometime in the mid'60s.
While we're at it, the latter days line-up of UNIT 4+2, featuring ex-Roulettes and soon-to-become-Argent members Russ Ballard and Bob Henrit, delivers a fuzzy mod stomper Booby Trap, before TONNY HAZZARD's own spectacular rendition of the Cliff-covered almost-Eurovision-Song-Contender The Sound Of The Candyman's Trumpet.
However inferior to the above collection, there's a couple of power-gems among the '73-'76 power-glams on the second CD, that are sure to keep on blitzing in my mind long after I finish writing this. With SHAMBLES' Hello Baby, you get to hear what the post-Matchstick Man Status Quo would've most probably sounded like, had they approached the power-pop instead of the boogie formula.
Even though formed by ex-Sweet members, ANGEL's Little Boy Blue might've passed for an unreleased Slade single, while the pair of WINSTON's Mona and ex-Flies/Knack/Gun drummer PETE DUNTON's Taking Time would easily fit the "popsike excursion" concept as well. As put in the liners by Nick himself, this is nothing more but "a chance to cast off the serious pomp of prog and have some fun", and it's taken advantage of to full degree.
[Released by Psychic Circle 2008]