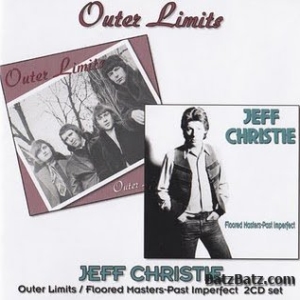 Every now and then, a whole new wonderworld behind the "one hit wonder" tag pops up on the kaleidoscopic horizon of the swinging sixties, unveiling a side of the author that is much more adventurous than the one suggested by the hit in question. (Jeff) Christie might not be just a one hit wonder, but it's perfectly clear that in most cases the only thing being mentioned alongside his name is Yellow River.
No less than 22 examples (5 single sides, along with 17 unreleased demos, all from '66-'68) included on the first of this two CD set, stretch out sometimes even way beyond of what you might consider for an "outer limit", every single one of them written by the pre-fame Christie himself.
Of the officially released stuff, Just One More Chance is considered for somewhat of a Northern Soul classic, which is where When The Work Is Through seems to fit just as well, before giving it a bit freakier approach by way of the early Attack in Help Me Please. With an additional harmony or two, what they end up with is a genuine contender for an imaginary Bee Gees track, as heard in Great Train Robbery, paired up with Sweet Freedom, another upbeat piece of harmony pop with a strong Hollies flavour to it, for their final single release in '68.
Leaving almost two LPs worth of demos behind, they could've easily ended up with at least one longplayer, worthy of any late'60s pop fan's attention. Naturally enough, and in accordance with the environmental demand, Outer Limits were catching up with the less swinging and more lysergic vibes. All Britsike classics that never were, it's the Beatles-by-way-of-The-Move model that comes to mind most often, best heard in Funny Clown or Listen.
Along your way out of the limit, you'll also hear the moody The Dream, the Syd-through-Blossies-like quirky little pop number Days Of Spring, or the pair of late'60s Mersey updates, Epitaph For Nonentity and Look At Me, both sounding not too unlike Jimmy Campbell at his Lennon best, before you're taken on a Honeybus ride with Mr. Magee's Incredible Banjo Band.
Though it's obvious that Christie had still had it by the time of the eighties, the obligatory synthetic production doesn't really make me want to go through the 2nd CD once again, except for a single song, which is the Emitt Rhodes-like You And Me.
Still, it doesn't spoil my impression of this being one of THE re-releases of the year.
[Released by Angel Air 2008]