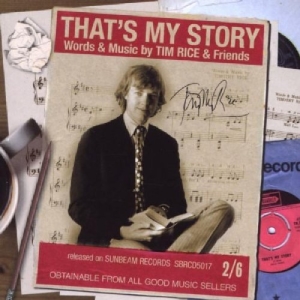 Basically an overview of long-time Andrew Lloyd Webber-collaborator's producing/songwriting career, predating their joint Jesus Christ Superstar-initiated fame and fortune, "the story" of Tim Rice covers a pretty wide variety of (sub)genres, complete with pretty detailed, and just as funny, track-by-track comments by the man himself.
From the standpoint of a moptop-covered, mostly mid-to-end '60s beat-to-(pop)psych-infected mynd, the highlights include the "beefed up" classic Merseybeat version of Tim's own supposedly "Donovan-like interpretation" of That's My Story by THE NIGHTSHIFT, THE SHELL's only single coupling of the Gouldman-through-Pacemakers sounding Goodbye Little Girl and the more r'n'b-flavoured A Little Bit Of Lovin', as well as an unreleased cover of The Impressions' You've Been Cheatin', showing off the band's "Motown-obsessed" side.
Another Jesus Christ Superstar album participant, MURRAY HEAD, delivers a pretty cool Zombies-like jazzy vibe with Someday Soon, while TALES OF JUSTINE's only single now stands as one of the classic Britsike singles, featuring the toontown-ish popsike of Albert and the upbeat baroque pop of Monday Morning, while JUST PLAIN SMITH's 1969 single release couples the soft-ish harmony-pop of February's Child with the unexpectedly freaky, fuzzed-out sound of Don't Open Your Mind, still heavy enough on harmonies though.
After he's been touched by the hand of "Jesus" towards the end of 1970, Tim Rice still kept going back into the studio for an occasional off project or two, but it's another volume that we'll have to wait for regarding these.
[Released by Sunbeam 2006]