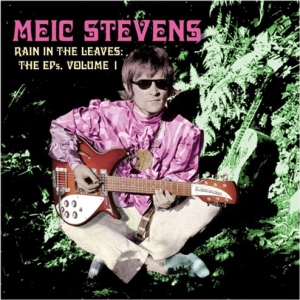 – The EPs, Volume 1 –
Being regarded as one of the cult folky troubadours and pioneers of what was to become known as acid-folk, the recorded legacy of Meic Stevens, has already been available through lots of releases, most notably the Tenth Planet vinyl, and Rhino Handmade's re-release of the Outlander album, while this one gathers his first Decca single from 1965, as well as some of the early Welsh-only EPs released throughout the decade.
Produced by John Paul Jones, his major label debut, along with some of the earliest EP sides, recorded back in his native Pambrokeshire village of Solva, all make it clear enough why he's being considered for Welsh Dylan, while some of the others reveal his own creativity as well.
Such as Ble Mae'r Bore?, which might've passed for a Tony Hazzard demo of an imaginary Manfred Mann tune, his first ever song written in Welsh Tryweryn, with a touch of Brit-Medieval vibe to it, or the gentle-by-way-of-Paul Simon Cân Walter, with the latter coming from the 1968 Rhif 2 EP, by the time of which he also started to get slightlydelic, as heard in the CD's title song Glaw yn y Dail.
From then on, he mostly stuck to the acid-flavoured sounds, be it the Eastern-influenced psych of Myfi yw'r Dechreuad or Mac Gennyf i Gariad, or a full-blown psychedelic freak-out such as Mynd i Bala ar y Cwch Banana, with an occasional nod towards the more melodic, laid back pop sounds of Dim Ond Heddiw ddoe a Fory and Cân Mamgu, or Tyrd i Lawr, being slightly reminiscent of Macca's Mother Nature's Son.
Featuring an introduction by Meic himself, as well as detailed liner notes, as suggested by the promo sheet, this is an essential purchase for all fans of acid folk and psychedelia.
[Released by Sunbeam 2006]