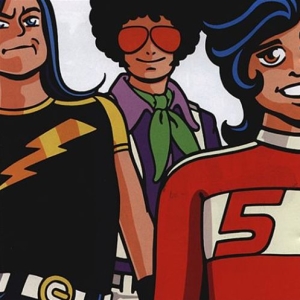 The Vandalias are surely one of the most imaginative pop concepts on the contemporary scene. And when I say POP concept, I mean it in the widest sense, cuz this band has it all, from the obvious irresistible melodies, through the mysterious cartoon-like appearance, to the fictive "Monkee business".
Even though there are only two regular albums released, in this case, I strongly support the idea of a compilation, and believe me that, even if you duplicate some of the songs, you wouldn't want to miss any of the items because of the cover arts that make them highly collectable.
Of course, on the top of it all, the most important thing about this is the fact that Dan Sarka, the man who's made it all up, is an author who is able to make you recall everything you ever loved about music.
If you haven't already heard the albums, some of the tunes to watch out for are the "raspberry"-favoured power-pop of the comp.opener Hey Kari G, the "lennonized" '65 funky-beat of Down, there's also Get To Know You, starting to roll right from the "bus stop" and into the perfect melody, hidden behind the wall of, sometimes even too noisy, guitarsound, and the chorus of The End Of The World makes you feel like you wouldn't mind if hearing it would be the last thing you do before the mentioned end actually happens.
Some of the gentler tunes like Watch My Baby Cry or Have You Seen Mine, with their melodic sixteez feel, jingle-jangle right into your heart, without you being able to resist them, and just to make things sure, they also throw in a coupla tricks like And I Love Her guitar solo fragment or a "spectorized" tympani-break or two.
When you're just about to think you've heard it all, there's some more "spectorizing" in Build This House with Phil-tryin'-to-articulate-a-rock-band- a-bit-heavier-then-he's-used-to, and while we're at it, would it be too much for me to say that Buzzbomb is something like Steppenwolf wishin' they're "Born to be wild" fronted by Dan while crooning My Way or something like that?!?
Whatever you think of this, it sounds great!!! … just like everything else on this album ! Go get it!!!
[Released by DiscMedi 2001]