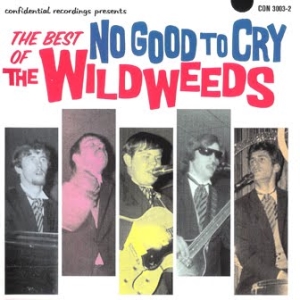 After so many bands/artists, being labeled as "blue-eyed soul", now this is what I'd call a genre-defining item. It was about time for these "weeds" to start growing again, though supposedly, they're still the "kings of the music scene in central Connecticut".
Besides the amazing artwork and an informative, full-colour 16-page booklet, which are worth the price themselves, what you get here are all the singles' sides (there were four of them) released throughout '67 to mid-'68, as well as ten bonus cuts recorded in the same period (except for one 1970 recording for a solo single release by one of the band members).
Mostly, it's all based around the composing talents and super-cool soulful vocal deliveries of the band's central figure, Al Anderson (later of NRBQ-fame). His Stubbs/Redding voice alternations are paired with a well-produced, tight band back up that moves easily from the British isles across the "Atlantic", through the "Motown" and into some of the American garages.
Their biggest hit, the debut single No Good To Cry, sounds like one of the best songs that Lamont Dozzier and the Holland brothers never wrote for the Four Tops, and it was backed with the classic beat sound of Never Mind charged up with Sam 'n' Dave-ish "call & response" vocals and a combination of jazzy/backwards guitar trickery.
The next pair continues the soulful ambience with the upbeat Sunday Morning melody (interjecting Beethoven's 9th Symphony into the solo-space) and "impressing" us Curtis-style with the amazing Can't You See That I'm Lonely.
I guess It Was Fun While It Lasted when the 'Weeds put The Bee Gees (ca '67) and Otis into the blender, which is exactly what they did on their third single, making the definitive blue-eyed soul formula, and this was backed with a rare digression from the "soul city" to the slightlydelic area of Sorrow's Anthem, which is also where they stayed for the last single's sunny-side I'm Dreaming, leaning their sound on the kinda garagey prog thing but losing none of the initial charm.
The highlights among the bonus tracks are Anytime At All (NOT that one!), makin' the west coast sunshiny daydream come true, And There Is Love, where they were trying to be The Association, as admitted by themselves, and they do a great job at this if I may add, and there's also I Want You Here, giving a hint of the C & W influences that were about to come out on their '69 Vanguard LP and also, once again, showing off the band's psychedelic side.
If The Wildweeds really are the kings of central Connecticut's music scene after more than thirty years, then I envy the people there and how they've managed to confront everything that's been happening since then.
[Released by Confidential 2002]