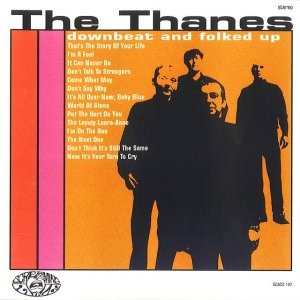 If you had any doubts about one of the pioneering retro garage bands being competitive with the moderndaze scene, fear no more, cuz Scotland's No.2 band is back with the brand new collection of "downbeat & folked up" tunes, good enough to stand alongside your Poets or any Dutchbeat records.
Though there is a bit more than just that, the songs that are the precise reflection of the album title are also the personal faves, including It Can Never Be, which is kinda like a surfy-punk take on the Poets' moody twang, or the equally moody Come What May, reminding of an imaginary 12-stringed beat rendition of some Leonard Cohen tune.
The super-jangly World Of Stone and (I Don't Wanna) Put The Hurt On You are a pair of mid'60s "woulda-been-HITS", Don't Think It's Still The Same is an organ-ized Mersey ballad and the garage punk section is represented with a coupla fuzzed-up stompers, like the opening That's The Story Of Your Life, Lovely Laura Anne or the Diddley beat-en The Next One.
Even though these originals are more than enough to make this one a contemporary '60s classic, there are some well chosen covers, adding up to the "downbeat & folked up" concept, like the Sandy Coast's piece of Nederbeat I'm A Fool, reminding of some of Gene Clark's most melodic "flights", which is also the case with the 'Brummels' Don't Talk To Strangers and there's also an upbeat folk-rockin' take on Dylan's Baby Blue.
One more thing of an essential importance is the place where this album is made and though there may be plenty of such studios, if you're aiming for an all-authentic thing, Liam Watson's Toe Rag is where it's at, which is exactly what The Thanes opted for.
[Released by Screaming Apple 2003]