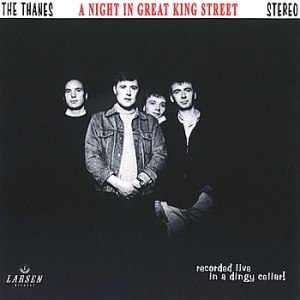 – Recorded Live In A Dingy Cellar –
After a couple of regular ones, and two compilation albums, it was about time for The Thanes to be officially "caught" live as well … on vinyl!
Mostly (7 out of 12) sticking to the latest longplaying studio release Downbeat And Folked Up (also reviewed elsewhere on these pages) and kind of displaying the "youngest" Thane (at the moment, and not the case by the time of writing), Angus McPake, taking over as the main songwriting force within the band, this seems as a night as good as any, in case you're up for some hip shakin' r'n'beat stomp, alternating between jangle and fuzz buzz.
Even though it's always great hearing some of their eclectic choice of covers such as (here included) It's Just A Fear, from Tony Hill's pre-Misunderstood daze with The Answers, The Beau Brummels' Don't Talk To Strangers, the pair of Dutchbeat nuggets by The Zipps (Kicks And Chicks) and Q65 (I Despise You … elsewhere unreleased), and most notably The Sparklings' freakbeat classic Now It's Your Turn To Cry, most of the originals are up to the same standard, and are sure to blow minds just as well.
Of the "folked up" ones, there's Tryin' Times and World Of Stone, a pair of moody janglers by way of their "ancestors" The Poets, or the 'Brummels-like Come What May, and on the snarlier side of delivery, The Lovely Laura-Anne is an Americanized piece of Farfisa-laden garage punk, while The Next One is an attempt at the "Pretty" Diddley-beat.
With all of these being McPake-written, we might as well mention that one of the set's highlights is the Remain-ing Sun Didn't Come Out Today, which happens to be the only Lenny Helsing-written tune included.
[Released by Larsen 2007]