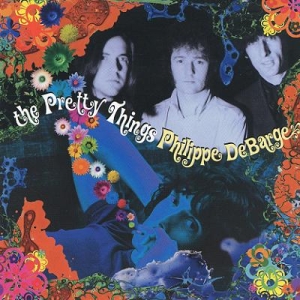 In case you're among those thinking that '69 was a blank year for The Pretty Things, here's a clear evidence of the opposite, officially released for the first time here. In between S.F.Sorrow and Parachute, just as Dick Taylor has left the group, Phil May and Wally Waller were flown to St.Tropez by a wealthy Frenchman and Pretty Things fan, where they spent some days of leasure, with "the most difficult decision they had to make being whether to use the saltwater pool or the freshwater pool". The main purpose of the visit was making plans about Philippe DeBarge's dreams of rock stardom come to reality.
With unlimited funds on disposal, it was also a chance for the band's musical ideas to stretch over the usual limits, making the whole deal quite hard to resist. With DeBarge being more than willing to learn, for his first-time-in- the-studio he does a pretty (pun not intended!) good job, making this a full-blown Pretty Things record, on a par with their regular releases of the time. Still, my own favourites are the re-recordings of some of the tracks already available through the Electric Banana monicker (Alexander, Eagle's Son, It'll Never Be Me), though most of the "new" ones come close enough, with You Might Even Say displaying their admiration for Love's jazzy-flavoured psychedelia.
You're Running You And Me and I'm Checking Out rocking hard enough in spite of being acoustic, All Gone Now being as gentle as they get, while there's also a 4-piece war-inspired "mini rock opera" of sorts. Philippe's intention to use his family's connections to release the record obviously hadn't come to fruition, making it fade to obscurity, with just an occasional boot appearance throughout the years.
Along with the 16-page booklet of the usual UT standard, as a special bonus, also included, and exclusive to this release, is Monsieur Rock (Ballad Of Phillipe), the very first studio recording of the '67-'68 line up of The Pretty Things ever since S.F.Sorrow, finding them pay their own tribute to their friend, sadly passed about 10 years ago.
[Released by UT 2009]