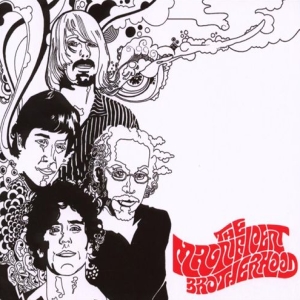 You know how they used to say that The Music Machine weren't just another garage punk band, which is what they're most usually being described as, but a bunch of amazing and extremely professional studio musicians, fronted by an obsessive control freak.
Now, I'm not sure if the songwriting pair of this Berliner band are freaks or not, but they sure are obsessive about mid-to-end'60s sounds, and they're just as much in control of the whole thing (complete with Kiryk Drewinski's own fabulous artwork and handmade posters), while the rhythm section is by no means one of the tightest on this side of Keith Olsen and Ron Edgar.
Still, as soon as one hears the fuzzed out guitars and Farfisa screams all over the place, the garage-punk tag is something they'll never be able to avoid. Neither do I think that they'll bother to do so. All considered, the MM label logo might not be a complete coincidence, and neither is the opening outburst of masculine garage punk of Cracker.
The album is basically a no-filler, so it's kind of hard to choose which ones to set aside. Lifetime and Better Hurry share an obvious west coast-ish vibe, most reminiscent of Quicksilver Messenger Service, No Mercy On Ravers and Can't Remember is a moody Doors-like pair, while Gun Or Run and Old Tattoo are the closest to the conventional r'n'b based garage punk.
On the British side of things, Mindgarage is pretty much like The Pretty Things after they'd started taking acid trips, and Soma Shop is a jangler that wouldn't really sound out of place within the quirky content of the Blossom Toes' debut LP.
In short, M.A.G.N.I.F.I.C.E.N.T!
[Released by Magnificent Music 2009]