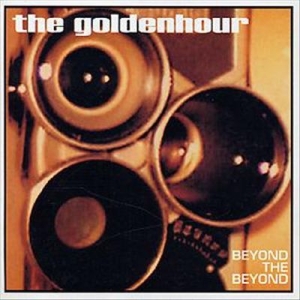 When it comes to loud guitars'n'harmonies, if a band comes from Scotland, you can bet that you'll be in for a treat.
Not unlike most of their natives, whose main goal seem to be chasing the "big star under the West Coast sun of Liverpool", The Goldenhour provides you, in a time span just a little bit shorter than implied by the name, with the usual dose of sunshiny vocal harmonies, diggin' deep into the past, and still makin' a contemporary soundscape.
Of course, in cases like this, the Beatley shades are imminent, so, if you like 'em shot from the "revolver" there's the opening 12-string rifferama Until I See You Again and the Stone Rose-coloured I'm Not Lonely, or if classic power-poppin' is what you're after, you have Come On!.
While we're in the mid-to-end sixties area, there's also a pair of freakbeatin' popsike numbers called Tapewormer (which I'm sure made the tapes burn while recording) and Don't Know 'Bout You Or Head.
West Sky Picture Show is the title that could hardly be bettered if you want to describe a 7 minute audio-omnibus full of Young-ish Buffalo sophistication, Yours To Keep would be a perfect soundtrack to a Northern soul/mod all-nighter and When Will I Find My Place takes you on another West Coast trip.
Mindreader does exactly what it tells, reaching to the back of your mind, searching for all of your favourite songs and making a unique model, while the title song will make your "teardrops explode", before it gets to one of the catchiest choruses that you'll hear this year.
It seems that the Raft label's boss, Daniel Wylie (ex-Cosmic Rough Riders), will have to make one hell of a solo debut if he wants to stay in charge, cuz these guys are bound to rule !!!
[Released by Raft 2003]