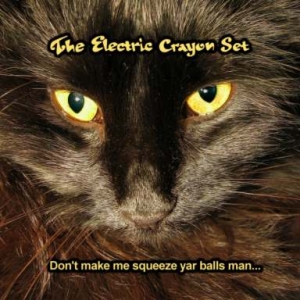 A title like this, and a pair of spooky cat's eyes staring right at me from the cover, providing not even a hint of something that I might like, seems as if I actually DO need someone to "squeeze my balls" to make me stick this into the player.
Then again, reading about the band's psychedelic/mod influences, referring to some of my all time fave names such as The Zombies, The Creation, The Small Faces, XTC, Martin Newell, Jam … makes me curious enough to give it try after all.
Just a few seconds into the opening Good Girls, sounding kinda like the early Blossom Toes-through-Andy Partridge, and it's clear that these guys just HAVE to think twice before they decide upon the cover-art of their forthcoming longplayer, which proves to be just as true, with the following Blur-ry MODernism of These Nights Are Supernatural.
They won't have to "squeeze my balls" to listen to them again, but in order to avoid the misleading, they'll have to make the cat go away, or at least put some crayon drawings to make it funnier.
[Released by SoundHawk 2006]