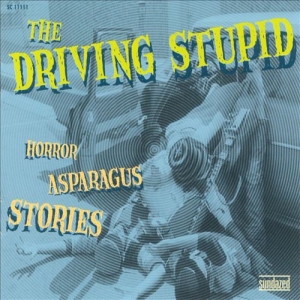 You know there is only one place a band with this name could be from, New Jersey, though these recordings were done out in Albuquerque and Los Angeles during the Summer of '66 on break from college.
Like bits of the first Alice Cooper album and West Coast Pop Art Experimental Band it's a wonder how far the major label moneymen would go, basically admitting by default how ignorant they were about what the kids would buy back in the '60s.
In this case there was one single, Horror Asparagus Stories b/w The Reality Of (Air) Fried Borsk, released by KR records, a label set up by (and named for) Koppelman-Rubin, the production company behind the Lovin' Spoonful.
Their sound was a mix of Surf, Garage and Jug Band picking over a basic rhythm and topped by an exclamatory vocal style with group backing vocals, sometimes surprisingly melodious.
As the song titles delineate the lyrical content was quite out there and generally nonsensical. All that said the Driving Stupid are like the Rosetta Stone of the post-'76 Indie World. Maybe I'm just on an acid dream but you can hear bits of the Mumps, Cramps, Robin Hitchcock and many others, but mostly in this world filling up quickly with second generation "rockers" I hear the sperm donors for the four Dead Milkmen.
The first seven tracks are from those New Mexico two-track recordings. They're pretty primitive with the rhythm section barely audible. But there is an energy, or something, that is lacking a bit on the version of the same numbers that were done out in the eight-track Hollywood studio.
My Mother Was A Big Fat Pig is a jagged Garage grinder which incorporates Mary Had A Little Lamb as its instrumental break, and for P.C. reasons got renamed to the title of this collection for it's debut on vinyl.
Fast City! is a hopped up parody of Car songs, ala Little GTO, with great grunts and some charm. The B-side of their single is an adaptation of the classic I'm A Man with those weirded-out lyrics.
Green Things Have Entered My Skin, Gladys is an energetic, jangly Folk-Rock number with harmonized white vocal group singing, a declamatory interlude and a studio created "skipping & needle slide" bit — a true delight! Then there is the even more non-P.C. rant I'm Gonna Bash Your Brains In which is belied by its jaunty musicality.
In a totally different way this is as great a find as the above record (Curt Boettcher – There's An Innocent Face), and for them Sundazed has my undying gratitude.
[Released by Sundazed 2002]