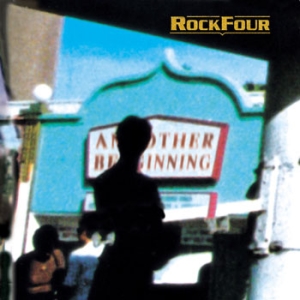 Just as the band's name partly suggests, RockFour is a fourpiece whose material can be easily placed into the "rock" genre but, what you can't see from their name is a bunch of sound-digressions to the places examined a long time ago as well as to some of the undiscovered corners of the musical tradition.
Of course, the most spectacular fact about this group, though it won't be that way in the (hopefully not so distant) world to come, is their place of origin. Namely, RockFour are from Israel (!?!?) which IS a bit surprising after all, even though they sing in English with excellent accents.
But, after the first couple of minutes of the album Another Beginning, RockFour pull you into their sounds-labyrinth, making everything besides music totally irrelevant. They are lucky enough to have the possibility to choose among the best elements of the audio-legacy that is served to them, being left on their own with "only" their own ingeniousness while sorting them out and forming the ultimate "moderndaze retro pattern".
This record seems like anything but an "another beginning", but the simbolicity of the title becomes clear when you learn about the fact that, after five albums for the national market, this is the first one to represent RockFour to the "western world" and when it comes to the label, the pefect choice was made with Rainbow Quartz, who seem to gather the cream of today's (power) pop (The Shazam, Cotton Mather, The Fletcher Pratt, The Lackloves, The Grip Weeds…) that seems to be just a a couple of songs away from the world domination.
The first song, Government, fulfils all the contemporary-protest-folk-rock criteria in the form of an encyclopedic sound mosaic made of Crowded House-verses, Jefferson-vocal bridge, Beatly-chorus and two (!) apects of Jim McGuinn-Rickenbacker-solos, the classic 12-string and the "psychodramatized" Coltrane-like one, separated with a Wilsonian passage that makes a human-whistle sound like a theremin(!?).
This is followed with Oranges, a classic Byrds reminiscence that brings a certain "lady friend" to mind, spiced with a cacophonic intermezzo that actually makes you "see Emily plays".
As a perfect prolongation to this, you get yet another Another Beginning, a Crosby-psyched-pop with a Roy Wood-inspired, orchestrated chorus-"move". The most dominant influence, to their own admission, comes from the ever inspirative Liverpudlian source, but in an unusal interpretation.
Chronologically speaking, Everyone is a pop jewel that would fit in the Rubber Soul concept, perfectly, Funny Paper/Money Maker sounds like a variation of George's (God bless him) Think For Yourself if it had been recorded four years later than it was, Smell Of Sweets leaves an impression of the usual "white Lennonism" with a great, hypnotically-repetitive vocal final, while Astronauts, as the title suggests, adds a Floydian, '70s-ambience to the possible Abbey Road outtake.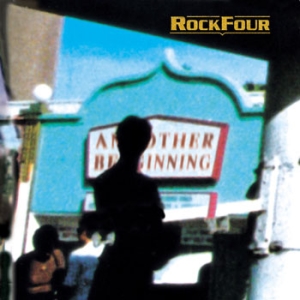 Route 66, despite it's Berry-like title, couples the mentioned Floyd hommage with a "lucifer"-y psych-tribute to Syd Barrett, Superman is a prototype of an orchestrated, Bowiesque space ballad and One Fantastic Day is an incredible meeting point of the west coast sunshiny-harmony-pop genre and the monster-Stooges-riffage.
After an impressive name list, (in)directly reflected on RockFour's sound, the album closer, Wild Animals, does not allow an actual name-check, which makes it a possible reason for mentioning this band as someone elses inspiration in the near future.
[Released by Rainbow Quartz 2001]