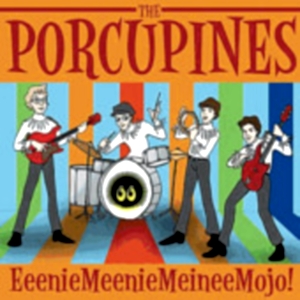 Nothing too serious about this one, just a funny little imaginary cartoon band concept, based on the ones made famous by the likes of The Monkees, The Archies and later, to some extent, The Jet Set or The Vandalias, or even the cyber garage revivalists, The Huggabaloos. It's just as funny too!
The cover art comes complete with the fab looking comic, they have their own "theme" song too and if you let yourself deep enough into their parallel world, there's The Porcupines' TV show waiting for you every Saturday morning!
As for the music itself, it's mostly within the Spongetoned take on the Brit-invasion sounds, jumpin' back-and-forth from upbeat Merseybeat tunes like Somebody Else's Thing, Loose Change or I Am Told, which sounds like a 'Pacemakers outtake.
Through The-Byrds-Searching-for-the-perfect-folk-rock-tune in That Girl Is Gone Away and the countrified Mersey-For-Sale Lennonism of Yes I'll Cry, to Wilson Porter's Grown-up Daughter which will kinda make you see the 'Hermits-keep-on-running.
As my faves though, I'm picking out the pair of beat-ballads Students Of Chess and To You, sounding like a bit gentler Raspberries, by-way-of-Wally Bryson, doing Hard Day's Night material.
Oh, and there's even a personal message to the fans at the end of the album, which was probably taken from some of their many special-edition fan club floppies 😉
[Released by Maize 2004]