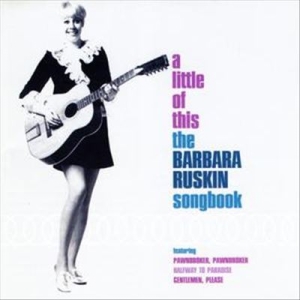 – The Barbara Ruskin Songbook –
Even though her name was not a common one on the British charts, here's an evidence that Barbara Ruskin's place on the sixties girly pop map is just as important as the ones of Dusty, Sandie, Lulu, Cilla and the likes.
Of course, among others, she draw inspiration from all of the mentioned ladies, but what's important to point out is that she absorbed the whole concept, including the songwriting teams behind them, it's just that Mrs.Ruskin did it all by herself!
She started out as a guitarist (!) in the late '50s'/early '60s, before getting involved, armed with the 12-string acoustic, in the Tin Pan Alley songwriting deals and finally, becoming a "well respected woman" on her own.
After the Spectorized take on Billy Fury's Goffin/King written Halfway To Paradise, she takes her destiny into her own hands, leading herself through a whole bunch of class self-written (except for 1966's Light Of Love) singles up until 1972, proudly wearing the influences on her sleeves, especially showing her love for Bacharachian vibes like in No More To Fall, Come Into My Arms Again, Almost, For The First Time In My Life, Yesterday's Coffee, or the gorgeous unreleased demo of The Loneliest Word In The World.
Some of the songs were even written with a certain artist in mind, hoping for an eventual co-operation like the Sandie Show-ered You Can't Blame A Girl For Trying, which is also where a coupla more would fit (maybe unintentionally though), like Gentlemen Please (here in it's German version!), her first '70s effort A Little Of This (And A Little Of That) or another unreleased gem So Long Sam, and there's also Well, How Does It Feel which is, quite rightfully, described in the liners as a possible "suitable vehicle" for Sonny & Cher.
Some other standouts, that aren't such obvious tributes but just great tracks on their own, are the moody beat-pop of Wishing Your Life Away, The Motownish Song Without End, as well as the slightlydelic pair of Somewhere In Eden and Pawnbroker, Pawnbroker, featuring what could've been called "gentle girly freakbeat" … all classics that never were.
As a bonus, you'll also find no less than nine of Barbara's unreleased demo recordings, among them two (President labelmate) Eddie Grant-written ones, as well a coupla more self-written tunes that would be more than worth hearing in full production treatment, like the upbeat acoustic based Echoes In My Mind and Hiding Behind A Tear.
[Released by President 2004]