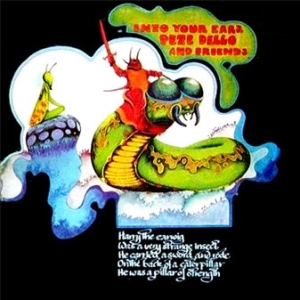 Unfortunately, there's still much more of those who either know nothing about Honeybus, and for that matter Pete Dello, or know them as one hit wonders who charted way back 1968 with I Can't Let Maggie Go.
The story of them being criminally underrated has been told over and over again over the years, which might still not be the case with the '71 solo album by their founding member, even though it was also already re-issued before.
Anyway, for those not in the know, among the Honeybus "riders" he's the Austin Powers-look-alike (especially with his glasses on). In fact, a couple of photos in the booklet of this most recent, definite re-issue, makes me think that, if there will ever be a Pete Dello-inspired movie, this exact same Mike Myers character would be a perfect match. So, if you happen to be among the poor bastards who still haven't heard this, here's what you get …
Besides the characteristic Dello-touch, there's quite a few Beatle-references to be heard, as from the opening It's What You've Got, which is kinda like late'60s Lennon being a bit gentler than we're used to him being, followed by the happy-go-lucky There's Nothing That I Can Do For You, a country-tinged-by-way-of-Ringo little tune, but still with some quintessential Englishness about it, while It's The Way is almost classic '67/'68 Macca.
The supposed Maggie follow up that didn't happen, I'm A Gambler, also one of Pete's defining tunes, is another country-ish piece of baroque'n'roll, Harry The Earwig is a Kinky tale about an imaginary insect-ruled parallel dimension, On A Time Said Sylvie is another distinctively British sounding popsike, and it might be noteworthy to mention that the closing singalong Arise Sir Henry uses Ray Cane's Honeybus arrangement of She Said Yes, as an appreciation for his contributions on the record.
Uptight Basil, is kinda like sane-Barrett, complete with a proper arrangement, with a dash of Dylan too, making it a perfect crossover between the Brit'n'Yank influences, with an additional early-Dylan-gone-folky-baroque-pop in Go Away and also A Good Song, an audio music-biz cross section, which could've easily fitted onto Blonde On Blonde.
Of course, there's also the new (slightly retitled) version of Do I Still Figure In Your Life, which, besides sticking closely to the original arrangement, according to some, "figures" as the definitive rendition of the tune. Among the bonuses, you'll find the complete pre/post album output.
Of those not appearing on the album in their updated (mostly superior) versions, there's another pure Lennonism heard in Working Class Man (b-side of the '73 single release of '68/'69 version of Gambler), plus the pair of discarded "Recital" sessions recordings, made of an unexpected blue-eyed soul vibe of Hold Up, Fold Up, and the jazzy pop feel of Texas Candy.
Considering the line-up involved, these are Honeybus recordings in all but name, making this a must for every "bus" rider, along with Hanky Panky's (just as definite) re-release of Colin Hare's March Hare.
[Released by Hanky Panky Records 2005]