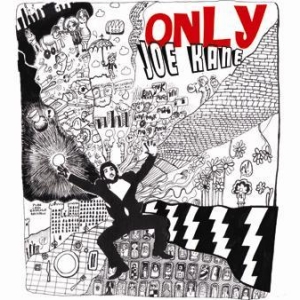 While stepping into the shadow, and out of the light of The Owsley Sunshine, where he's playing a quirky Glaswegian Beatlemaniac, Joe Kane opts for the "only" detour, making one of the most charming DIY releases you'll hear this side of Martin Newell.
Described by the man himself as an album of "compressed pianos, ramshackle roomy drums, overdriven acoustic guitar riffs doubling the bass part, busted transistor organ, wooshing synth walls & found sounds, keeping the accidents in, sound on sound, overdubbed tom rolls, sellotaped spaghetti for brushes, retard Nashville guitar licks, dub tape echo in pop, fake mellotrons, knee percussion, clavioline counter melodies, silly panning …", saying pretty much "only " what you need to know.
Looking for more conventional (?!?!) references, there's some accordion/twee synth-laden country to be heard in What's Wrong With Us, getting as close as possible to an almost cheery sounding Oar-era Skip Spence, some witty Britsike numbers like As Hard As I Feel and Big Onions, by way of the already mentioned "greatest living Englishman", or Syd, who on the other hand, at least used to be one as well.
Of the unavoidable Beatle references (in spite of him singing about you/she don't liking The Beatles anymore), there's some Badfinger-like pioneering power-popin' in Annual Show, as well as a pair of Lennonisms, of which Above Postcard Corner is a ballad of the kind that soulmate Robert Harrison does with Future Clouds and Radar (or used to do with Cotton Mather), while Dear Molly (Don't Go Rockin') goes slightlydelic within the same matter, before the closing Don't Pump My Ego Baby, pays a tribute to Phil Spector and Brian Wilson by way of fellow locals BMX Bandits.
There's also a couple of extremely funny little instrumentals being just as great as the rest of the album, with the opening Norman Clegg Is In Outer Space unexpectedly turning into a (early) Floyd-ish sci-fi thing, after a ukulele intro, while Disnae Time is an imaginary fuzz laden Diddley beat-en spy soundtrack.
"Only" or "Owsley", doesn't really make too much of a difference, but it's kind of fun to have it both ways.
[Released by Desperate Umbrella 2007]