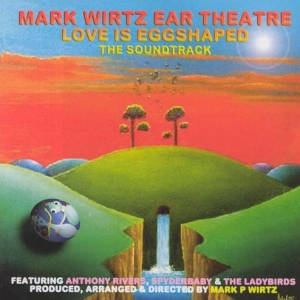 Though mostly remembered for the quirky Britsike pop of Tomorrow and the wirtzual pocket symphonies that should've graced the Teenage Opera concept, Mark Wirtz had an extra moment or two of brilliance in the '70s and '80s too, spread all over albums like Philwit & Pegasus, Balloon, Hothouse Smiles, Cartoon (unreleased) …
Now, if anyone's deserves a noticeable come-back, Mr. Wirtz must be among the first in line, and here's his return ticket. The first thing that comes to mind is, unfortunately, that it lacks the trade-mark epic orchestral arrangements, but I guess that is a studio advantage he has to fight back.
Still, besides all the synth'n'digital input, more than once you'll be reminded of his genius, starting right from the opening title tune, sounding like 10CC doing a cover of an unreleased Macca/Donovan '67 collaboration. Along with a couple of others, this is a re-recording of an older song, intended for the Cartoon album ('82) and then later released as a B-side on the Bomp label single.
Other highlights include several ballads like the Blue Nile moods of I Wish, the "electric lighting" of So Do I or the popsikey Mama Cradle Me, and there's also a pair of radio edit/mixes as bonuses, of which, in case of Learning 2 Live With Love, it's this alternate mix that adds the missing punch, displaying it's Britsike roots.
As I said, Mark's come-back is a more than welcome one, in one way or another … hopefully, the overall impression will cause someone's investment in another one, which will put him where he belongs, and that's into one of the great big studios, accompanied by the "wracking crew" of some kind.
[Released by Rev-Ola 2005]