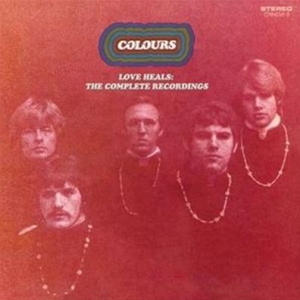 – The Complete Recordings –
However derivative the tag may sound, every now and then a Beatlesque album from the '60s pops up, that amazes the shit out of me. I've known about them thanks to the Dalton/Montgomery songwriting credit appearing on records by The Turtles, Nino & April, The Moon … (predated by their Motown songwriting deal), but this is my first ever encounter with Colours themselves, and it's no less than kaleidoscopic, featuring every single nuance there ever was.
Conceived as a studio project, the band was used as a vehicle for the psychedelic trip that Jack Dalton and Gary Mongomery felt like taking, inspired by the swinging sounds from across the ocean … making the band name spelling clear enough along the way. The ones sticking the above mentioned Beatlesque tag firmly onto it, are all over the same-titled '68 debut, hectically jumping between Macca, Lennon, Badfinger, The Merry-Go-Round and such references.
Funnily enough, the opening Bad Day At Black Rock, Baby, without an obvious fab-tone, happens to be the most colourful one, and their own pocket symphony as well, in all it's full-blown orchestrated glory … proclaimed "the favourite song in the world" at the moment by Leon Russell.
In order to shake off the supposed "Beatles rip-off kinda thing", the following Atmosphere LP finds them in a more rootsy, and sometimes even progressive mood, with just an occasional nod towards the fab-sounding (pun intended) Colours.
As with every "studio-project", their story was cut short before they knew it, but is more than worth re-telling … over and over.
[Released by Now Sounds 2008]