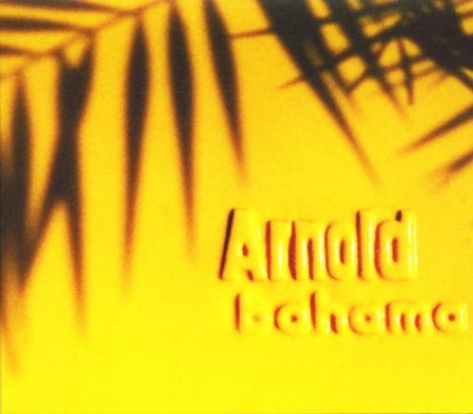 Arnold is a British band that seems to gain a lot of confidence from their label boss, Alan McGee who's released their mini album The Barn Tapes in 1997. As well as their long playing debut Hillside a year later, both on Creation.
Just like a couple of other young bands, with the demise of the "creative" temple they were threatened to become an "ex-file" but… after some business reconstruction and under the new label name, McGee's putting them back on the scene with an album called Bahama with a content that mirrors a pretty inspirative three-year break that created new, mature authors described in the Poptones' press-release something like
"Andrew Loog Oldham pretending to be Phil Spector in creating supernatural symphonies" (!?). Besides such an intriguing description, the strength of the album lies in an even wider spectre of similarly interesting ones that together make a completely original product.
What we get at the very beginning is pretty much a possible post-Oasis Noel sound (or maybe a suggestion?!) packaged in lush Radiohead production and a slide-ambient. A combination of some lo-fi Bacharach-sensibility followed with a huge Hammond sound and a wall of shoe-gazing guitar sounds is what makes a song Jus De Lune while Hangman's Waltz is exactly that, an acoustic waltz with a Jeff Buckley-at-his-most-melodic interpretation.
Oh My, a single that announces the arrival of Bahama, capturing that Pet Sounds-instrumentalisation, is a pretty brave choice, but than again, you could say that in any case when it comes to songs like these. Recreating the spirit from the end of the '60s and the beginning of the '70s goes to Easy that could be put easily to the Woodstock area with a bunch of C,S&N-inspired longhair pacifists and love disciples and Boo You with it's Sticky/Exile-era Stones acoustic propaganda.
The end of the album belongs to a song called Pavey Ark that leaves an unanswered dilemma if it's a four-part omnibus or a sole song with no less than three (!) hidden tracks. Anyway, these four minutes and fifteen seconds are filled with a kaleidoscopic mosaic of sounds made of Chilton's "third" passages, Young's grunge-solo, some more Pet-instrumentalisation imbued with some gospel-choirs, "spiritualized" ambient blues, sophisticated Drake-like fingerpickin' styles…
Bahama is definitely a grower that simply needs a couple of listening before it gets into your mind but that really shouldn't be a problem since new sound-dimensions are discovered every time!
[Released by Poptones 2001]