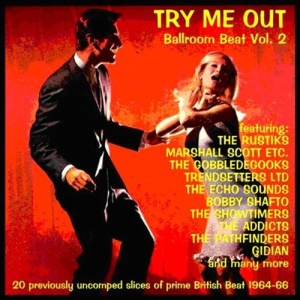 – 20 Previously Uncomped Slices Of Prime British Beat 1964-1966 –
Trying out our persistence to hang around the ballroom hall for some more, Nick Saloman comes up with the second volume of prime British Beat slices that are sure to keep your Cuban heels stuck to the dance floor. Not really all of them uncomped, nor too hard to dig up for that matter, but I'm sure there's still quite a few surprising finds for all of you, no matter how nerdy you're considered to be.
Sneaking around the corners of the usual sub-genres, the one Nick's chosen to open the set with, is Bern Ellliott, found on the moodier side of quasi-Merseybeat, and backed by The Klan on his post-Fenmen single, after he's seen Wally Allen and Jon Povey off to The Pretty Things. Fitting a similar formula, is the entry by the Leeds combo The New York Public Library, and also the one by Marshall Scott Etc. from the farthest North of England, as well as Coronation Street's milkman-turned-pop-star Chris Sandford, doing almost the same in reality, backed by The Coronets, featuring Mitch Mitchell on drums.
On a more danceable side, justifying the subtitle of the album, there's a Knickerbockin' piece of primal power-pop heard on the German single side by the Glaswegian Echo Sounds, the clean-cut Bobby Shafto, displaying what might've been the sound of a fuzzed-out garage-punk band backing Freddie Garrity, along with the catchy beat pop of Coventry's The Peeps, or the pre-Marmalade Dean Ford & The Gaylords' second single's sunny side.
Other future-celebrity-related entries, that might be of interest to completist types, are The League of Gentlemen, with Robert Fripp and Gordon Haskell in their line up, and yet another King Crimson member in the making, comes with the Trendsetters Ltd. featuring both Mike Giles and his brother Pete, while The Rustiks might be worth the mention as well, if not for another pretty cool genre-defining slice of Merseybeat, then for their early manager Brian Epstein.
"Try them out" and you're sure to find some truth in Nick Saloman's words from the liners, saying that "resistance will be futile"!
[Released by Psychic-Circle 2007]