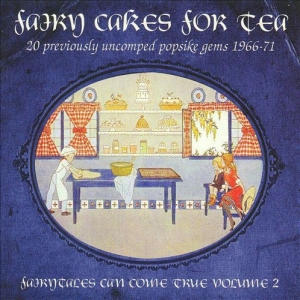 – 20 previously Uncomped Popsike Gems 1966-1971 (Fairytales Can Come True, Vol. 2) –
Opening with a Badfinger-styled rocker by The-Merseys-in-disguise, calling themselves The Crackers for this one off single in 1969, Psychic Circle's second volume of audio fairytales doesn't really come close to the series' initial volume from a while back (reviewed elsewhere on these pages).
The first one to hold up to the standard (to these ears at least), is the track No. 7, being an orchestrated baroque-pop number from 1967, by a certain Scott Henderson, after which things tend to get a bit more adventurous. The Mike Stuart Span's Jewel labelmates Dave Andrews & The Sugar deliver an upbeat Hammond organ-ization, followed by what must be one of the most masculine, and most obscure at the same time, versions of the Classics IV Spooky, as done by Sasperella.
The inevitable toytown section within concepts like this, is fulfilled by a Move-ing number provided by the Swedish band 14 (!?), and some more slightlydelic pop sounds, occasionally verging on childish, are also to be heard from The Guards, produced by none other then the Teenage Opera conductor Mark Wirtz, as well as from the following tune by Fluff, written by Gordon Grey, also responsible for The West Coast Consortium's Colour Sergeant Lillywhite, and just as worth the mention within the same context, is a happy-go-lucky number by the Mancunian duo called Chuckles.
However, the "pick of the set" tag, if you ask me, is divided between the pair of Zombies-styled sophisti-cakes by a guy called Peter, and one from 1971, coming from Rescue Co. No. 1. Considering Nick Saloman's dedication, I'd advice you to keep your teacups warm enough, because I'm sure that the next portion of "cakes" is just about to be served.
[Released by Psychic Circle 2007]