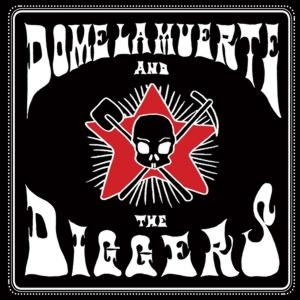 Not only displaying the spooky band name and artwork, complete with the Fuzzy logo, all within the overall horror-ish concept, but another thing you might be familiar with here, is the name of at least one of the "guest musicians", which is Rudi Protrudi, providing occasional harmonica wails, some background and even lead vocals as well.
All considered, The Fuzztones comparison is inevitable, and happens to be pretty audible as well, and to my own regret, with the '70s punk ingredient being the prevailing one. Still, there are elements of the more appropriate Gravedigger series as well, as heard throughout the punked up garage r'n'b sounding Blue Stranger Dancer, Demons and Bad Trip Blues, or the signature helter-skelter of a late'60-Who-meets-the-'Pistols tune Sorry, I'm A Digger.
Other evidences of the band's cool source of inspirations, are the just as punked up renditions of The Yardbirds' Heartful Of Soul, Lennon's Cold Turkey and Gun Club's Fire Of Love. With the line up made of seasoned Italian punk scenesters, this is a competent debut album, as much as it is a sort of a come back of ex-members of CCM, Liars, Not Right and Thunder Road Company.
[Released by Go Down 2007]