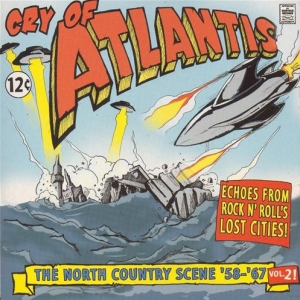 – The North Country Scene '58-'67 Volume 2 –
Coming in a super-cool cartoon-like pop-art-ish package, Cry Of Atlantis is a sequel to 2004's Heart So Cold, offering yet another bunch of North Country rockers, mockers and punkers "crying" out for well deserved (inter)national attention that escaped them the first time around.
As suggested by the subtitle itself, the soundscape covered within, ranges from rockabilly/surf/hot rod naivety of the scene's pioneers, THE ROCKERS, THE VISTAS' earlier recordings, or THE THUNDERBOLTS' "wild" instrumental pieces, through the Brit-invaded, Merseybeat stuff of, again, THE VISTAS '65 single.
Some Bo-Diddley beat-en garage janglers by MOTTS MEN and THE KON-TAKS, or the cool r'n'beat of FREDDIE & THE FREELOADRES' The Octopus Song, slightly reminiscent of the Mohair Sam-vibe, to the fuzz-laden freakbeat of THE CHOSEN FEW's only single, while THE INMATES offer a slice of the scene's mid'60s live atmosphere with another garage punker.
However, my "pick of the set" title goes to the stars of the volume THE VISTAS, yet again (!), whose unreleased '65 single, pairs up another Brit-influenced folk-rocking garage tune No More Time, with the freaky r'n'b set-closer I Want You.
Cry Of Atlantis proves that rock'n'roll of the North Country scene was more than "echoing" outside of Plattsburgh as well!
[Released by Dionysus/Bacchus Archives 2006]