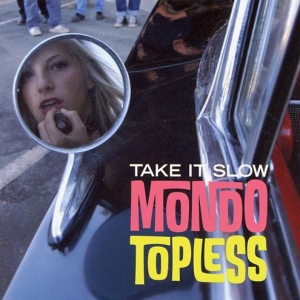 One thing's for sure with Mondo Topless, and it's that whatever they do, they DON'T "take it slow", and the one thing that they mostly do is to take the raw, mid-'60s garage punk nuggets, chew them a while, and spit them back, with '70s punk attitude.
Of course, there's nothing revolutionary about that, but they sure do "spit" out a couple that might become moderndaze semi-classics of the genre among the "children of nuggets", such as the opening title tune, or Can't Dig It, both sounding kinda like a beefed up Remains.
Having at least a cover or two, is another usual thing for a contemporary garage record, and even though I must say that I wasn't really expecting too much from yet another take on the Raiders' classic Louise, they actually manage to refresh the thing, while Solomon Burke's Stupidity is also being punked up pretty well.
So, as I said, even though the guys do say so, it's obvious that they don't really want you to "take it slow", unless they're just faking it, so that they can get there first … wherever it's at.
[Released by Get Hip 2006]