It took two months of begging, prostration and misery but I finally got a copy of this double CD set. I got my vinyl copy out of the 99c cutout bin at my old college bookstore back in the '70s. I thought it was a great find, although it was one of those "True Hi-Fi Stereophonic Record" versions.
Listening to them back to back there is a quantum leap in clarity with the new mixes yes re-mixed this is. Also, as usual, the original British track listing makes much more sense with the impressive instrumental melange The Ox as the final track of the album.
The US version had appended to it Instant Party (a.k.a. Circles) in a swap of the cover of Bo Diddley's I'm A Man (where Daltrey sings in a Howlin' Wolf kind of vein). US companies were always removing album tracks to include British non-LP singles, and I had always thought it was strange that Decca didn't' swap for the preceding UK singles, I Can't Explain and Anyway, Anyhow, Anywhere. (For some reason listed as Anyhow Anywhere Anyway in the CD booklet's track listing — actually an alternative version from a French EP, the actual UK single version is not to be found here though it's B-side,— Daddy Rolling Stone, is.)
But I'm getting ahead of myself. The weirdest thing I found in my comparison is that the version of Instant Party on my LP has what sounds like Entwistle's French Horn prominently overdubbed on it, while the booklet notes make no mention of this, let alone have an explanation.
Disc one has the tracks that make up both versions of the original album, as well as both sides of the I Can't Explain single (b/w Bald Headed Woman) and the aforementioned Daddy Rolling Stone. The first sessions done for the album (April '65) included many R&B cover versions. But the decision to go back in (October '65) and record a number of Townsend's originals was definitely the right one.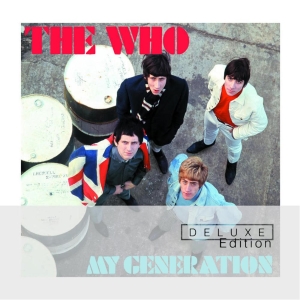 They have an energy level that isn't quite there on the remaining covers. Not to mention their general shift away from "Maximum R&B." Things that strike me: The Good's Gone foreshadows the coming Psychedelic trend.
Much Too Much and It's Not True are overlooked gems when it comes to other bands picking over the Who catalog. Keith Moon was already fully developed into the most formidable force in Rock and Roll. And the ubiquitous Nicky Hopkins' piano fit in perfectly.
Disc two bunches up many of the covers left off the original album: an alternate version of Leavin' Here, a modified version of the Raiders' answer song Louie Go Home called Lubie (Come Back Home), yet another James Brown number, Shout And Shimmy, two from Martha & the Vandellas (Love Is Like A) Heat Wave & the obscure Motoring and a lovely reading of Philadelphian Garnett Mimms' Anytime You Want Me (farther down the track order an acappella version is included).
Stringing them all together like this makes for quite a fun set. It makes you wonder, if only someone had the foresight to strip out all the covers and added in all the original, non-LP singles, Decca, and us, would have had ended up with two albums that would have been more unified within each but exciting in total. With the only dilemma being where to put the enchantingly goofy pastiche, proposed Circles B-side, Instant Party Mixture?
[Released by MCA 2002]