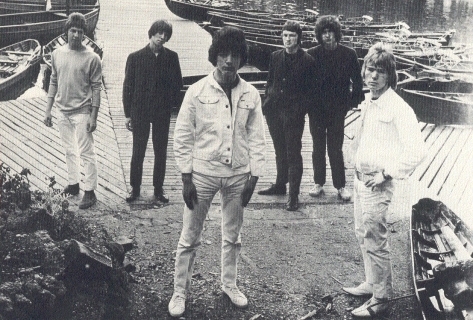 One more triptych from those good people to the north. Reissues of the Chicagoan, original Nuggets band's three Columbia albums along with nice helpings of "bonus tracks" (which once more occasionally gets filled out with broken timeline stuff).
Their most famous number was their first single — a cover of an old Searchers single that they ripped off a competing Chicagoland band — done for the local Destination label. Columbia picked them up after that initial success and while they never climbed those heights (#49) again, they were given another nine singles and three albums to try with over the next three years.
Sugar & Spice shows the band in full Byrdsian flower with jangling guitars, multi-part harmonies and even a tambourine player, the hook-laden Jim Pilster (a.k.a J.C. Hooke) – the album includes a cover of Gene Clark's She Don't Care About Time, slightly speeded up and cut with a harpsichord solo.
The album has a preponderance of covers (We Gotta Get Out Of This Place, If I Needed Someone, et. al.) mixed with a few originals that fit right in. One is the flip of that first single, the nonsensical Ben Franklin's Almanac (by lead guitarist Jim Fairs), which with its Psych-touched, Garage-Rock sound is as heavy as the band seems to get, with their version of Hey Joe coming a close second.
The bonus tracks include an earlier recorded Beatles cover, You're Gonna Lose That Girl, with a twangy guitar solo, and their post-album, third single, Mr. Unreliable b/w Georgia.
The former, written by newly recruited guitarist Lenny Kerley, is a tight little rocker, while the latter, again by Fairs, dips into Lovin' Spoonful, jug band territory.
The other three tracks, previously unreleased, come from late in the band's existence, '69, and includes a cover of Bread's It Don't Matter To Me with vocals and harmonies that at odd points remind me of Badfinger, and the pretty, Kerley original The Road.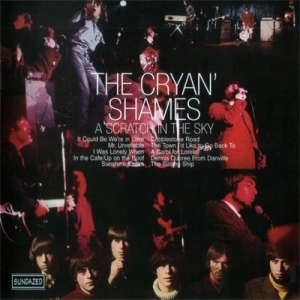 A Scratch In The Sky finds the Shames in a more delicate mode. The arrangements, both instrumental and vocal, are more intricate, echoing So. Cal. contemporaries like Mamas & Papas, Association (and the other Boettcher stuff collected in the package reviewed previously), the softer aspects of the Turtles and the Beach Boys, etc.
Also, except for two numbers (Up On The Roof [Drifters] and from some local compatriots in Saturday's Children), the two songwriters who worked individually on the originals on the first disc team-up to create the songs here.
And it is a sweet, enjoyable bunch too. The lead off number, A Carol For Lorelei, mixes a number of the references listed above into a pop tune of fragile, crystalline beauty.
In The Café has an insistent, gently swaying rhythm supporting melancholy drenched lead and harmony vocals with an unusual texture provided by a prominent harpsichord in the main part, and mandolin and accordion in the European styled bridge and reprise.
Another tasty morsel is the semi-jaunty, overtly Brian Wilson influenced single It Could Be We're In Love. (One weird aspect is that the song order shown on the cover of the booklet of this disc is different than that of the record itself and the original album.)
The official bonus tracks here are all mono mixed, single versions, including two non-LP numbers: the fustian A-side, from the pen of Oliver, Young Birds Fly and the tranquil, solely crafted by Jim Fairs B-side, The Warm. There is an unlisted radio commercial tacked onto the end.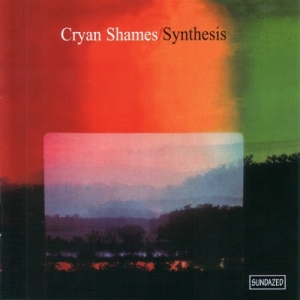 Synthesis seems like a pretty apt title with a third songwriter, Isaac Guillory, added to the mix (ostensibly to replace Fairs, who left behind First Train To California and a co-write, with his replacement, of the first single from the album Greenburg, Glickstein, Charles, David Smith & Jones), with his own style.
That A-side is heavier than had become usual for them but mixes in Guillory's orchestral ideas — it's quite a concoction with an early Deep Purple kind of rhythm, hints of Tommy (It's A Boy?) in the bridge and their trademark vocal harmonies in the chorus.
Next is an unusual choice for a cover, Hoagy Carmichael's Baltimore Oriole which fully introduces their new Symphonic-Rock direction (shades of the Moody Blues) — see also Symphony Of The Wind.
The other new member, Dave Carter, brought over the cantering Country-Rock/Pop-Rock ditty It's All Right from Saturday's Children. Kerley contributes, amongst others, the catchy, bubbling, almost funky 20th Song. There's also a cover of Dino Valenti's Let's Get Together [Youngbloods].
The bonus tracks again are single versions (not in their real order). Included is their post-album swan song Rainmaker [Harry Nilsson] – a twang intoned Pop-Rock version of no little appeal – b/w Kerley's full-blown Country-Rock, pedal steel driven Bits And Pieces. And another radio ad.
[Released by Sundazed 2002]