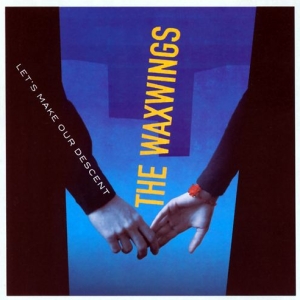 Regarding The Waxwings, I must admit that I have a blank page syndrome happening here, since I just loved their debut Low To The Ground, then I never had the chance to hear the follow up, and now here's the third one, showing an unexpected development, to say the least ….. and a pretty strange one, though all in a good way too!
The harmonies and melodies are still there, it's just that they sometimes seem to be backed by another band, slightly quirkier and under the influence of the Syd conducted 'Floyd (Leave Less Waiting, All The Fuss) or early XTC roboticism, as heard in the bluesy On For Tomorrow, which also shares some of The Lilys vibes, just like the "kinky" closer Every Light You See.
Syd Barrett and The Lilys' Kurt Heasley actually seem to be the two omnipresent spirits, constantly hanging over The Waxwings recent efforts, occasionally digressing towards the freakbeating power-chord "creations" in Never So Clear or some 'Stoned sounds as in the opening Steady As Starlight, which is probably what Mick'n'Keith would've sounded like today, had they been stuck in the "satanic" '67 time warp, while Answer To Me is quite conventional late'60s Stones riffage.
Of Late could also be described as a Rolling Stones ballad but then again, it could easily pass on any of the Teenage Fanclub or Stone Roses albums, so it makes it kinda universal don't it? … and there's also another one called Expected Of You, which starts out with the Chil-toned feel before "throwing" in some more early '70s Stones.
Thankfully, The Waxwings are not flowing with the current commercial garage (!?) hype that's going in their Motor City neighborhood. Instead, they stay within their own, nowadays pretty unique soundscape, built with the help of the infamous Brendan Benson, who'll also be joining them on stage.
[Released by Rainbow Quartz 2004]