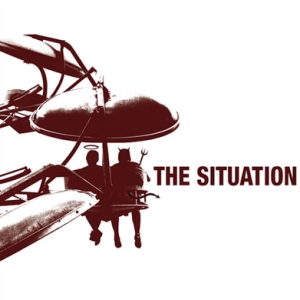 As with their debut mini album three years ago, The Situation makes it clear that "the situation" they care about the most, is the one in and around the English North Country scene at the turn of the'80s and '90s and its own perspective of the sixth decade, mostly resulting in the Mancunian kind of a psychedelic jangle.
All of the above becomes pretty clear right from the opening Amoralia which goes from a Stone Roses-like popsike to the Manics at their most protestable. Paper And Pen is another slightlydelic rave-up, with an equal dose of 'Roses-smell, by way of The Bluetones, and there's also a piece of a discoid psychedelic rawk called Cherry sounding not too unlike the early Happy Mondays.
Modern Dances and Mocking Fate are pretty close to The La's-going-garagey-r'n'b, and Pillbox Locket, while sticking to the similar concept and familiar "smell", also adds a bit of a blue-eyed soul.
On a more laid back side of things, still seen through the same lens, Let It Go is the BIG single waiting to take them to the toppermost of the poppermost, Latchkey Kids is an acid-folky piece in the vein of Donovan or Nick Drake, Black Cat Dice is like Dylan-just-gone-electric, Photographs And Cherryade could've passed for a McCartney White Album outtake, and the closing tune The Migrant Living In Your Ear is a kind of a Kinky mind-observation.
So, here's "the situation": if you miss the days when Britpop was still young, this is a perfect way to reminisce about it …… Oh, and did I mention that they come from Philadelphia?
[Released by Elephant Stone 2006]