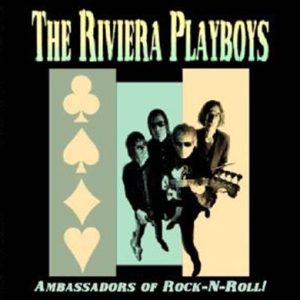 Gathering ex-members of Rochester garage punk revival heavy weights such as The Chesterfield Kings and The Projectiles, The Riviera Playboys could be considered a super-group of sorts.
The last time I'd heard from them, was their collection of covers, showing off their impeccable taste, and now here comes the proof that they're capable of delivering their own doze of fuzz'n'buzz, with some of them being not less of a genre classics than the originals themselves.
Though I must admit that a couple of tunes sound more like an average post-punk rock, which isn't really what I was expecting, it's all made up with the Gouldman-by-way-of-Yardbirds-sounding If You Asked, the similarly Brit-influenced mod beat stomper Telling You Not To Go and the Leaving Here-inspired freakbeat guitar riffage of Love Me.
The same goes for the usual mid'60s garage punk fuzz of We're Goin' Down followed by the Farfi-sized Right Where We Belong and the funky dancefloor filler Your Lovin' Ways.
They're equally great when they slow things down a bit, as heard in the sitar-driven moody psych ballad She Used To Be My Girl, the powered-up Seeds-flavour of No I'm Not and the folk-rocking chime of I'm Sorry, which is sure to make you "sad and lonely and blue" ….. unlike The Riviera Playboys themselves.
[Released by Sreaming Apple 2005]